Cast: Pawan Kalyan, Saidharam Tej, Ketika Sharma, Priya Warrier, Brahmanandam, Rohini, Vennela Kishore, etc.
Directed by: Samudrakhani
Screenplay, Dialogues: Trivikram Srinivas
Music: Taman S.S
Cinematography: Sujeeth Vasudev
Producer: TG Vishwaprasad, Vivek Kuchibhotla
Get ready for the ultimate cinematic experience as the much-awaited multistarrer "Bro" graces the big screen, featuring none other than the legendary Pawan Kalyan and Saitej! With the success of remakes like "Vakil Saab" and "Bheemla Nayak," Pawan Kalyan brings another exciting remake to the table, based on the hit Tamil film "Vinodaya Sittam." Directed by the talented Samudrakhani, and featuring a power-packed screenplay and dialogues by Trivikram Srinivas, "Bro" aims to captivate audiences with its intriguing philosophical touch. So, let's delve into the review and see if Pawan scores a hat-trick hit with this thought-provoking movie!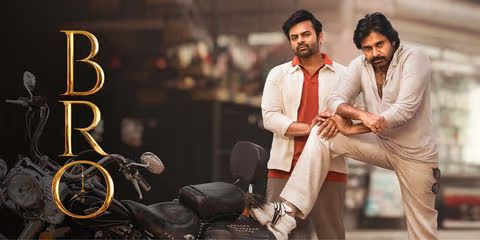 Story
The plot follows Markandeyudu (Saitej), the responsible eldest son of a businessman. When tragedy strikes and Mark's father passes away, he finds himself shouldering the family's responsibilities. Lost in the hustle and bustle of life, Markandeyudu neglects his loved ones. Fate takes an unexpected turn when Mark meets with a fatal accident. Enter Titan (Pawan Kalyan), who arrives to escort Mark to the afterlife. But there's a twist! Titan convinces Mark he has unfulfilled duties and needs more time on Earth to complete them. Every action Mark takes leads to unexpected consequences. How will Mark tackle these challenges? Did Titan lend a helping hand? All these answers unfold on the silver screen!
Now, let's talk about the film's essence. While the original "Vinodaya Sittam" carries a strong philosophical mood, "Bro" spices things up by blending commercial sentiments with its philosophical core. The movie conveys the intriguing concept that even God needs time, and indeed, 'Time' is greater than God. This fan-made flavor is evident right from Pawan Kalyan's grand entrance, where he treats his enthusiastic fans with a mix of popular songs.. Vintage Pawan Kalyan is back in full force, delivering captivating looks and dialogues that leave fans in awe. The interval and climax segments are undeniably the movie's strengths, enhanced by the impressive background music that sets the perfect mood. The fast-paced narrative keeps you hooked, and emotions peak at the climax, leaving a lasting impact. However, some scenes might feel overdone, and certain family emotions might lack depth, but overall, "Bro" promises a gripping ride.
Performances
Let's not forget the standout performances! Pawan Kalyan as Tiitan brings boundless energy to the screen, reminding us of his heydays. His dance moves in popular songs add to the entertainment factor. Saitej impresses with his touching portrayal of Mark, evoking empathy from the audience. Ketika Sharma's role is limited but impactful, while Rohini and Priya deliver satisfactory performances as the mother and sister, respectively.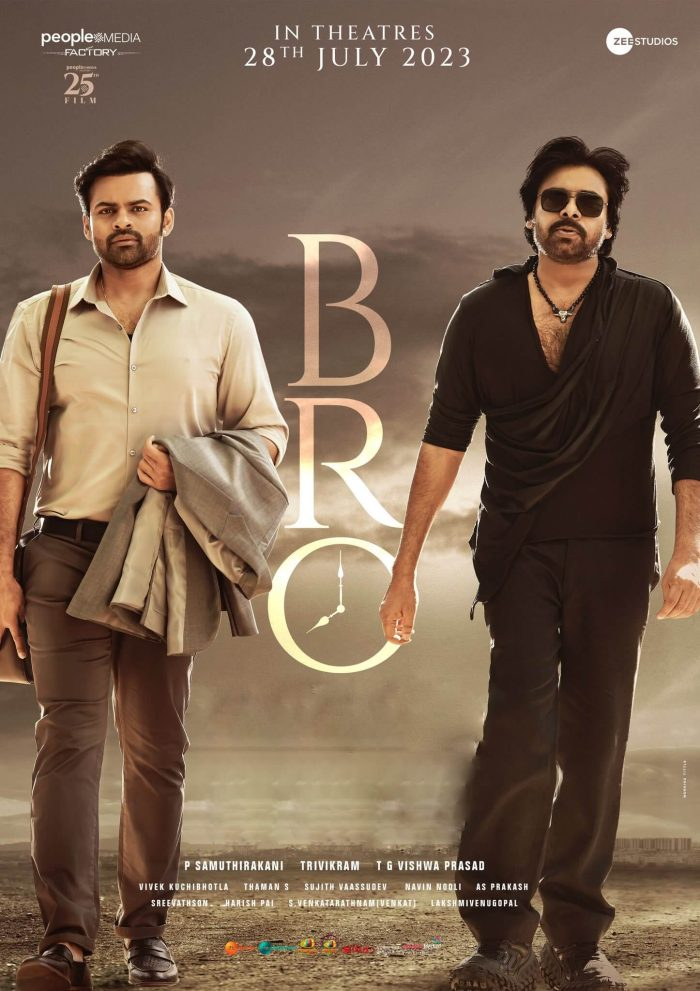 Technical Aspects
Moving on to the technical aspects, director Samudrakhani deserves accolades for successfully retaining the essence of the original story while catering to Telugu nativity. Trivikram Srinivas's engaging dialogues and screenplay leave their mark, reflecting his signature style. Taman's background music once again proves to be impressive, with the hymn BGM adding a special touch. Cinematography by Sujeeth Vasudev perfectly captures Pawan's youthful avatar, complementing the movie's overall aesthetics.
Pros
The scenes between Pawan and Saiteja are a definite highlight, creating on-screen magic. The mix of Pawan's songs and the entertaining dialogues and screenplay keeps you hooked. The climax is a roller-coaster of emotions that stays with you even after leaving the theater.
Cons
On the flip side, some scenes might feel a bit exaggerated, and the inclusion of political dialogue might not resonate with all viewers.
Rating 3 out of 5 stars.