Importance of Airbags in Car
Airbags are the most important component to consider when purchasing a car. Having said that, it is frequently disregarded in India. Most automobile purchasers fail to verify and check the airbag specifics before purchasing a vehicle, preferring to focus on all other technical and other aspects. However, the death of Cyrus Mistry, former Chairman of Tata Sons, has caused every Indian to reconsider the safety of airbags.
Read on to learn more about the top automobiles in India, as well as their airbag specifications.

The tragic accident of the former Tata Sons Chairman- Cyrus Mistry.
On September 4, 2022, a catastrophic car accident in the Palghar area of Maharashtra killed Tata Sons Former Chairman Cyrus Mistry and his buddy Jahangir Pandole. Anahita Pandole (driver) and Darius Pandole (front seat passenger and the driver's husband) were the other two who survived the crash with minor injuries.
The deaths of the rear seat passengers could have been avoided if they had worn their seat belts, as even the high-end 2018 Mercedes Benz GLC 220d 4 MATIC, SUV couldn't protect them. Mistry was thrown out of the windshield and crashed into a divider as a result of not wearing his seat belt, resulting in his death, but the front seat passengers were saved by seat belts and airbags and were simply injured.
Mistry's mishap serves as a reminder to everyone that, regardless of whether a vehicle is considered "safe," both front and back seat passengers must wear seat belts.
Why is it important to wear a rear seat belt?
A seat belt is a simple but important automotive safety component. Seat belts are designed to grasp the occupants' shoulders and hips and keep them within the vehicle during abrupt and rapid motions. And, with a three-point seat belt (around the chest and waist, which is commonly found in new cars), one will be anchored to their seat, preventing him/her/them from moving and thrashing their body during an accident. This will avert potentially fatal injury or death.
The same is true for passengers in the back seat. In fact, if rear seat belts had been worn deaths could have been avoided. In the event of an accident, an unbuckled rear seat passenger may crash with the front seat backrest and dashboard, resulting in whiplash injuries to both themselves and the front seat passengers. They can also collide with the steering wheel or be flung through the windshield.
Keeps the passenger stationary long enough for the airbags to activate and protect the passenger from brain and spinal injuries.
According to the World Health Organization, wearing a seat belt reduces the chance of being killed and wounded by 25% and 75%, respectively.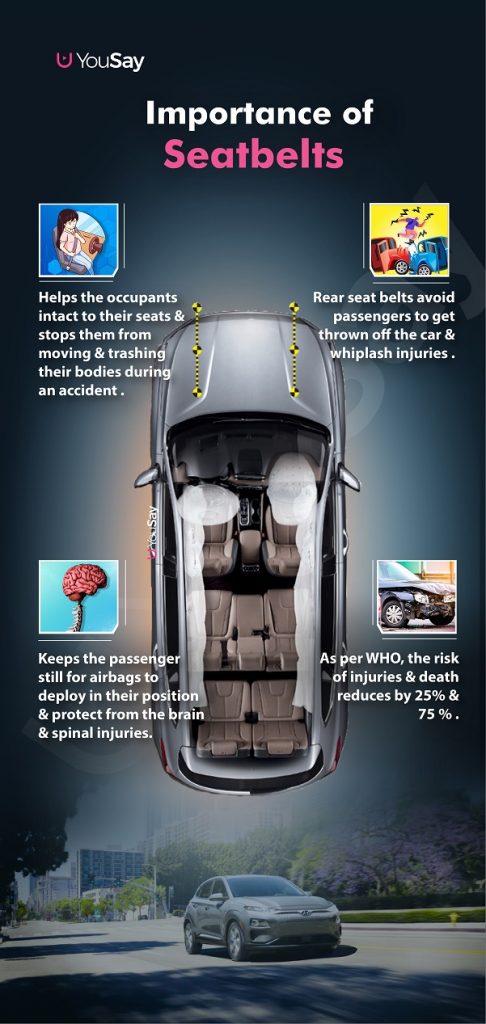 Airbags- The Supplemental Restraint Systems!
Airbags SRS as the name says are supplemental restraint systems, Here are their key benefits of them.
Cushions passengers in the event of a collision.
Protects the body from being hit by the car's harsh pieces.
Airbags do not deploy until the seat belts are buckled.
Another important aspect regarding airbags is that they are not suitable for children and can be as deadly as the accident itself.
Airbags save car occupants from being thrown from the vehicle.
Children under the age of four must not sit in the front seat.
Airbags, combined with seatbelts, protect car occupants.
Seatbelts and airbags work together to protect passengers; here's a rundown of a few key types of airbags to help you understand the safety features of your new car.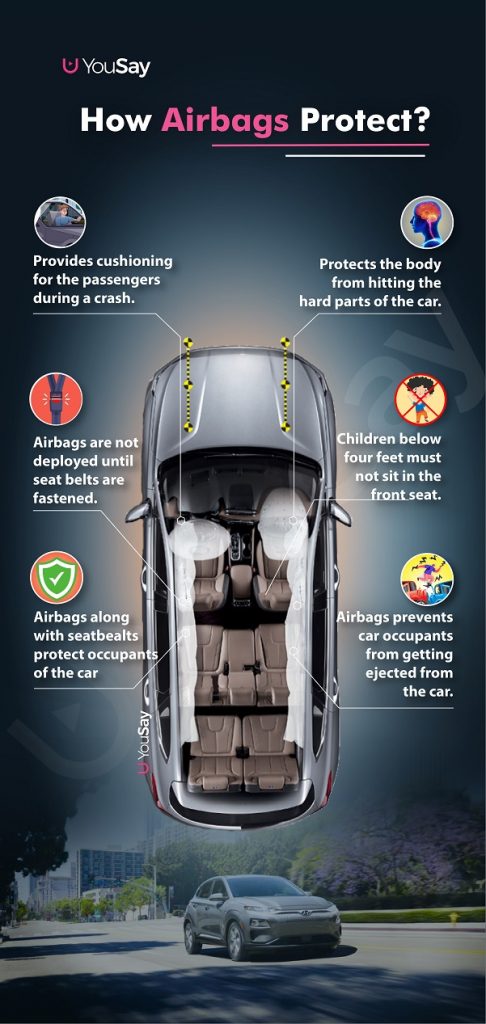 What are Front Seat Airbags (Driver and Co-passenger)
Front seat airbags are deployed in front of the passengers in order to prevent their heads from crashing into the harder surface of the car like the steering wheel and dashboard.
What are Side Airbags?
The side airbags are inflated to prevent all occupants from colliding with the car's doors and to protect the torso. These airbags inflate through the seats.
What is Curtain Airbags?
Curtain airbags protect front and rear seat occupants from collisions with windows and pillar trim. It's all across the doors, from front to back.
What is Front Facing Rear Airbag?
The purpose of rear airbags is to keep the rear passenger's head from collapsing into the front seats. They are inflated behind the front seats.
What is Knee Airbags?
Knee airbags release from behind the dashboard to protect front-seat occupants from significant knee injuries in the event of an accident.
What is the Difference between Side and Curtain Airbags.?
Side airbags are installed and inflated through the seat cushions to protect passengers from ribcage damage, whilst curtain airbags are installed and inflated from the roof to protect both front and rear seat occupants from slamming into windows and side trim.
Best-Selling Cars In India and their safety features
Given that seat belts and airbags reduced fatal and non-fatal deaths and injuries in front and rear seat passengers by 60% and 44%, respectively, you should ponder about airbags before purchasing a new car.
Here is a list of the best-selling automobiles in India, as well as the airbags available in various models. Please keep in mind that this information was obtained from their websites; we encourage readers to double-check with the manufacturer and their websites. YouSay or KTree accept no responsibility for any errors or omissions, and readers are recommended to exercise sufficient due diligence.
Maruti Suzuki
Maruti Suzuki is one of the leading car manufacturers in India. The company was founded in 1981 and has its headquarters in New Delhi. Maruti Suzuki has a market share of over 40% in the Indian car market. The company offers a wide range of cars, SUVs, and vans. Some of the popular models from Maruti Suzuki include Swift, Dzire, Baleno, and Ertiga. Other Models are Maruti Suzuki Alto, Celerio, Wagon-R, Brezza, Vitara, Eeco, Ertiga , S-Presso, Grand Vitara, S-Cross, XL6, Ignis, Ciaz. Check out the images below to see what airbags they offer in their vehicles.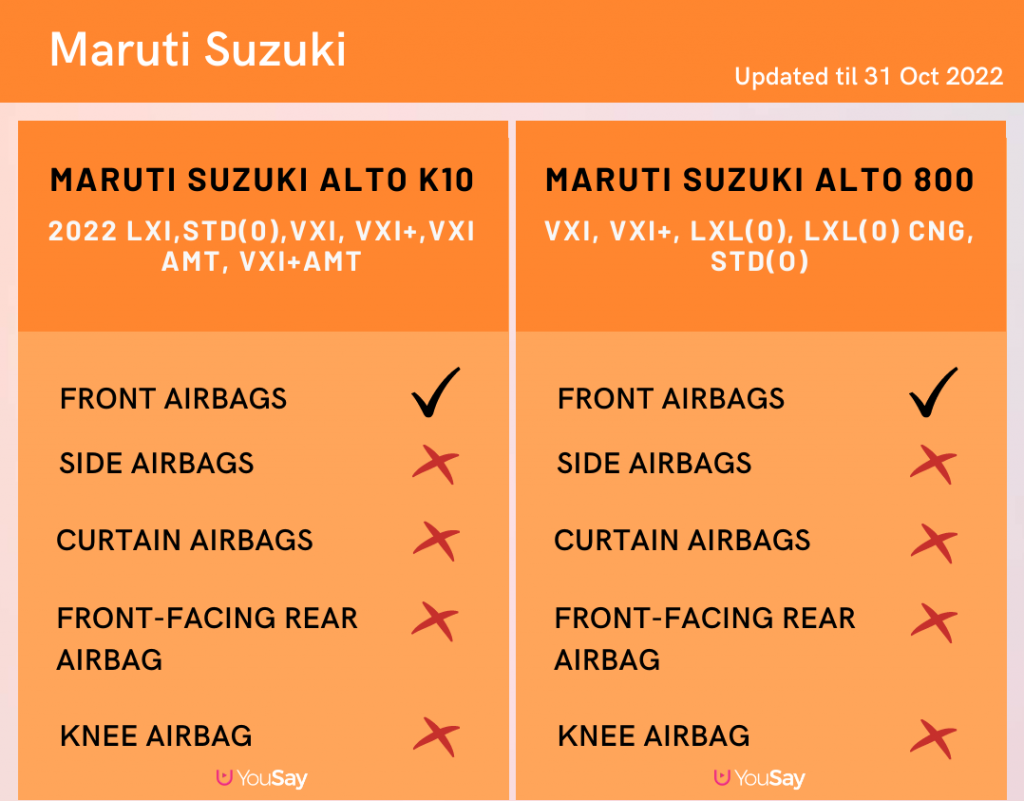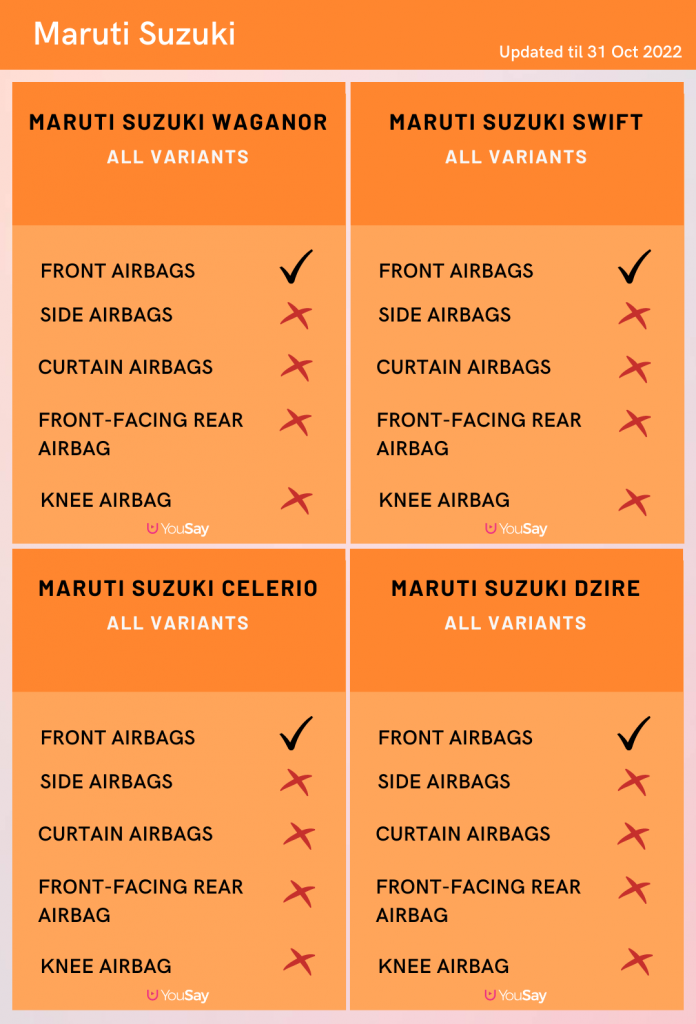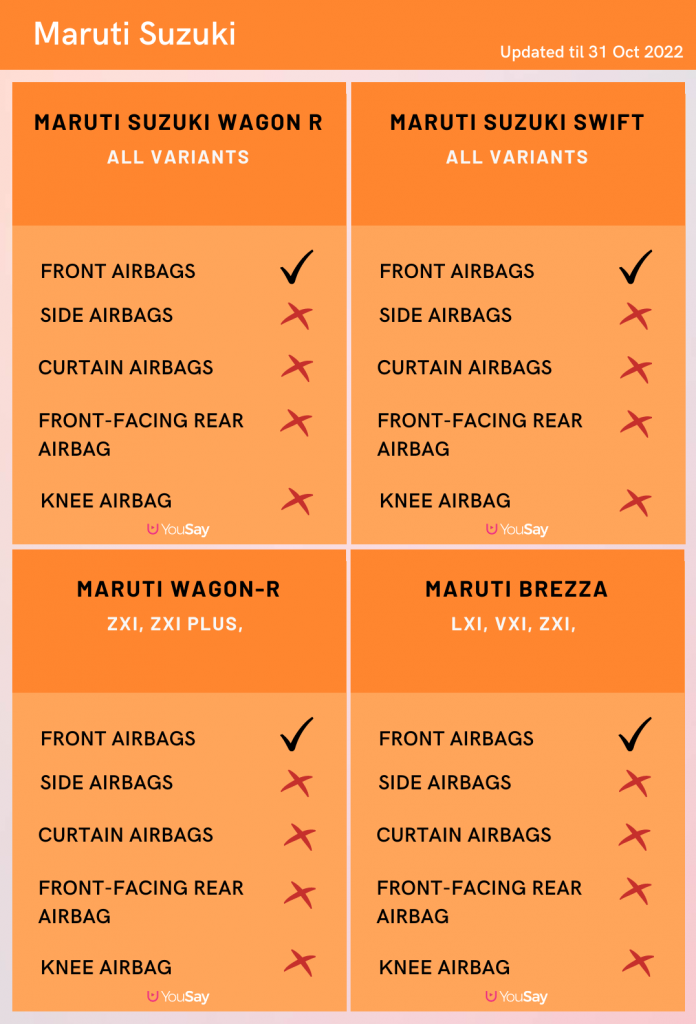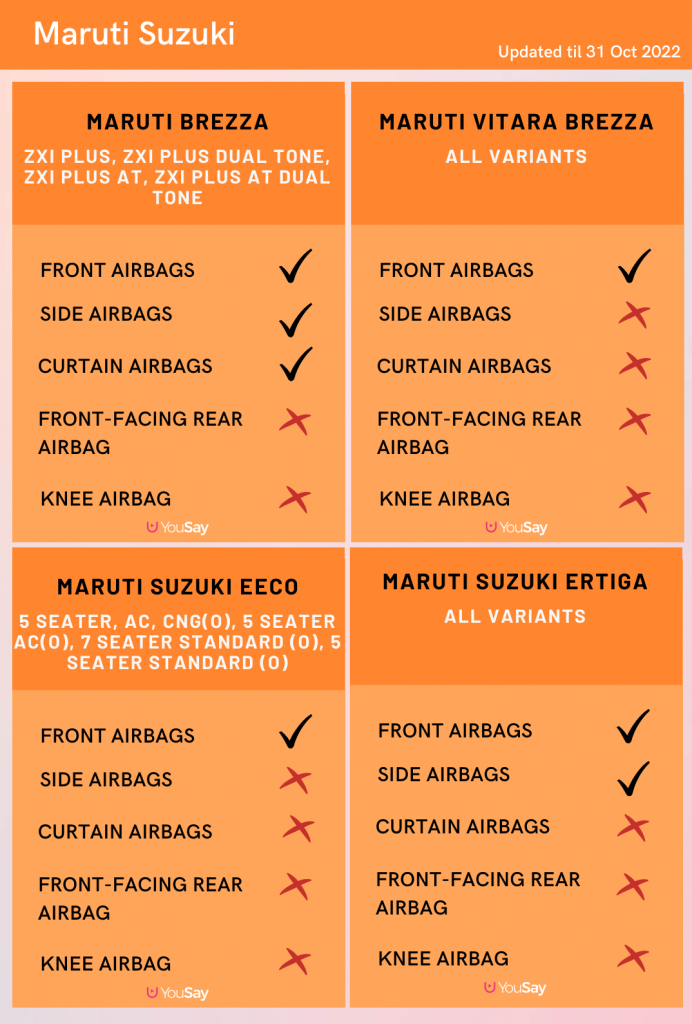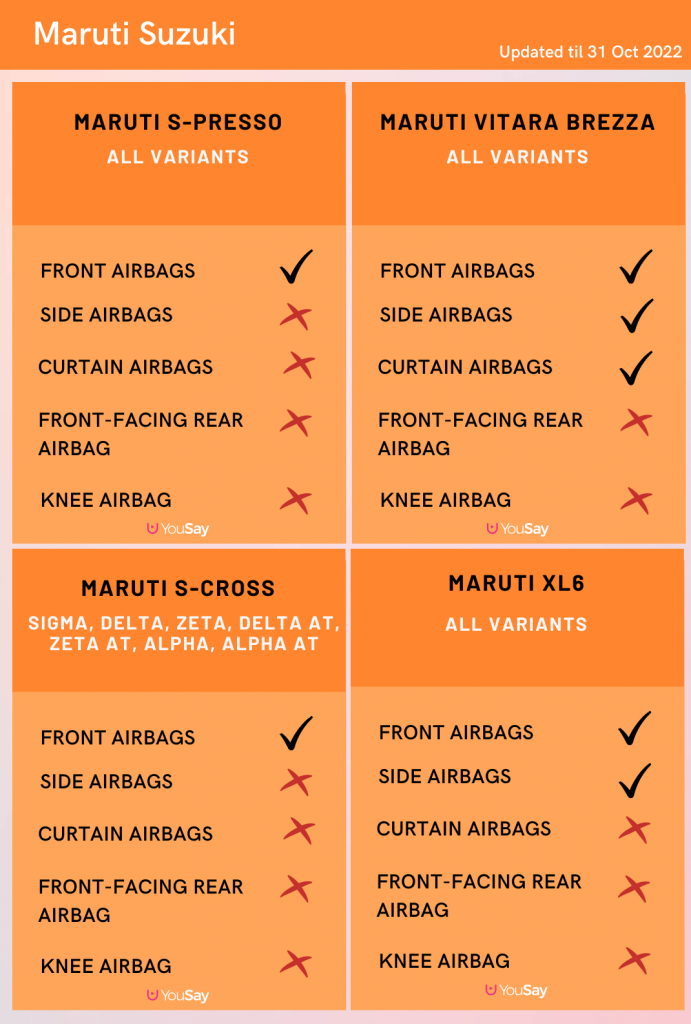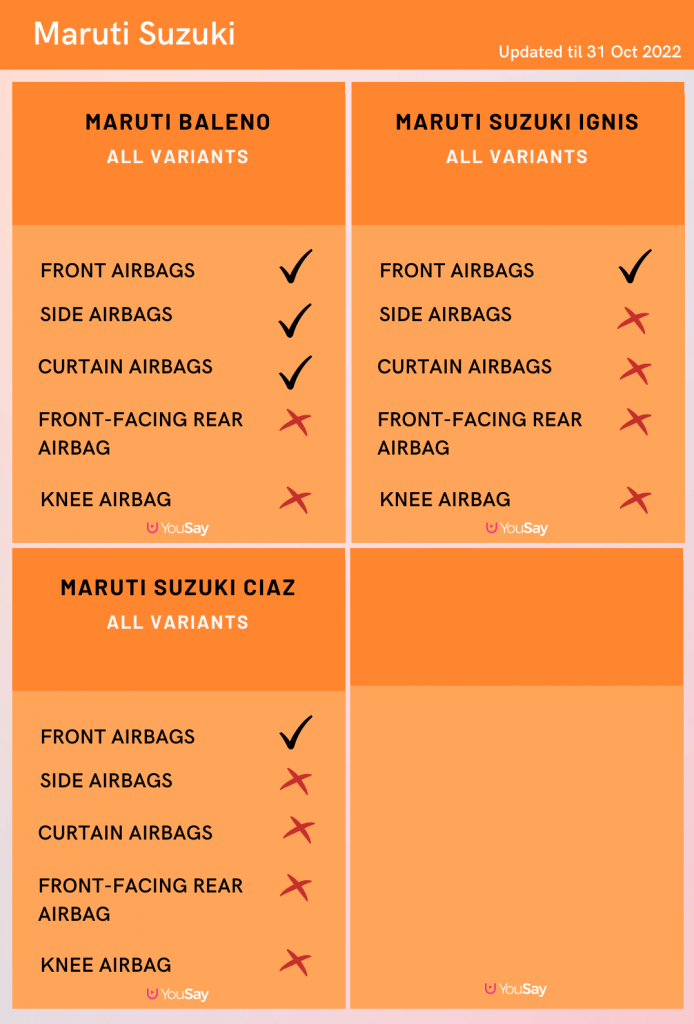 Hyundai Motor Company
Hyundai Motor Company India is a subsidiary of the South Korean multinational automotive manufacturer Hyundai Motor Company. Headquartered in Chennai, Tamil Nadu, Hyundai Motor India Limited was founded in 1996 and it is the second-largest car manufacturer in India after Maruti Suzuki. Some of its popular models include the Santro, Getz, i10, Verna, Elantra, and Tucson. Other models from Hyundai are the Grand i10, Nios , Venue, Creta, Tuscon, Alcazar, i20, Aura, Santro, Kona Electric, and i20 N Line. Check out the images below to see what airbags they offer in their vehicles.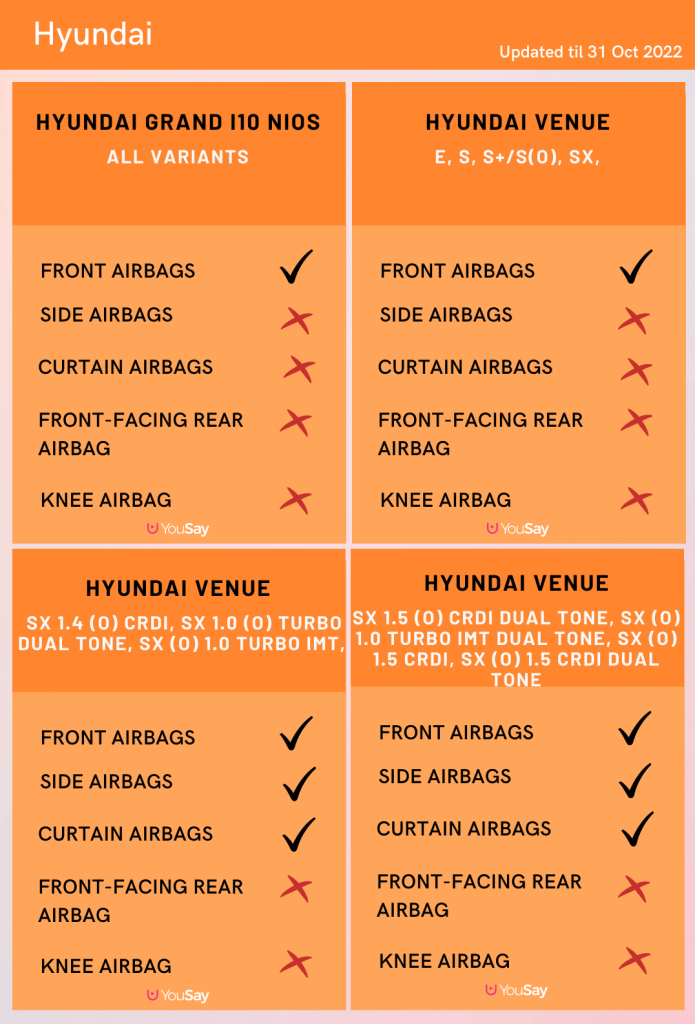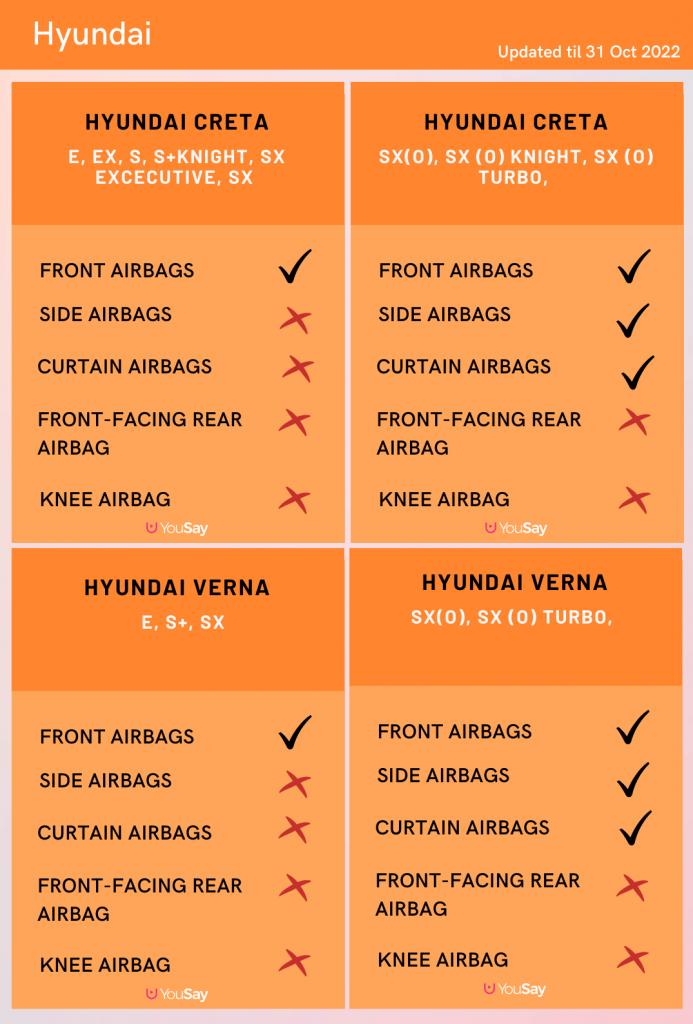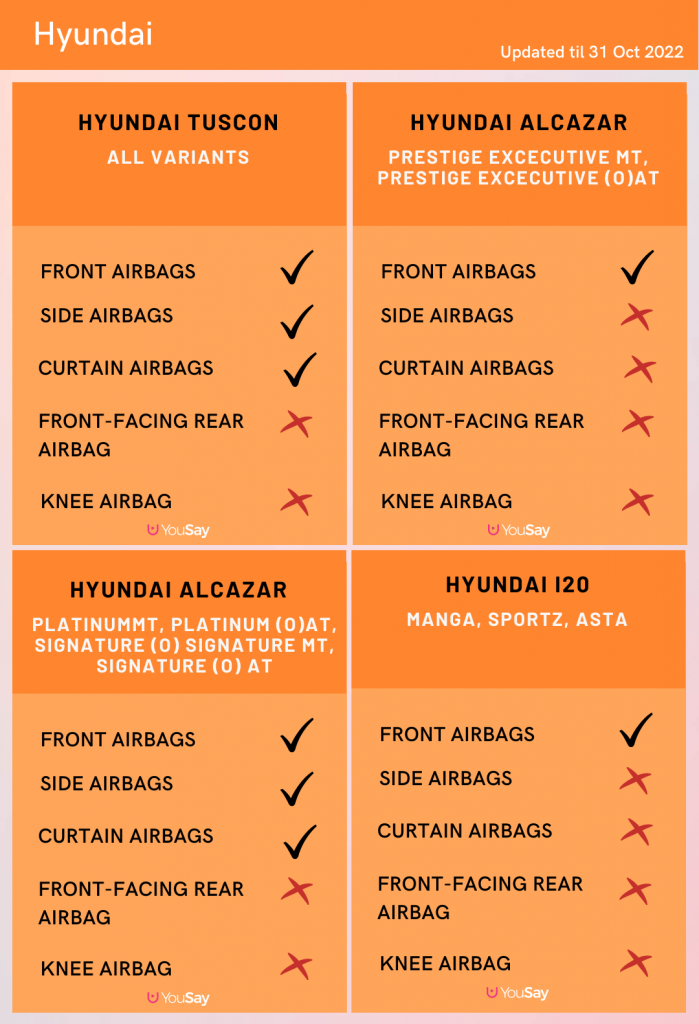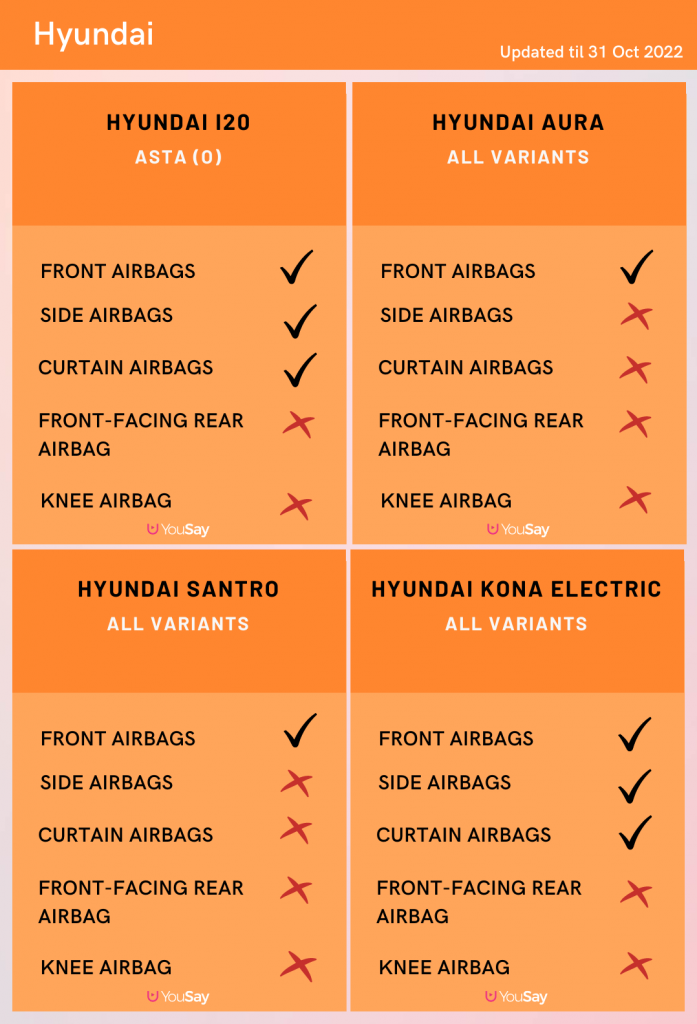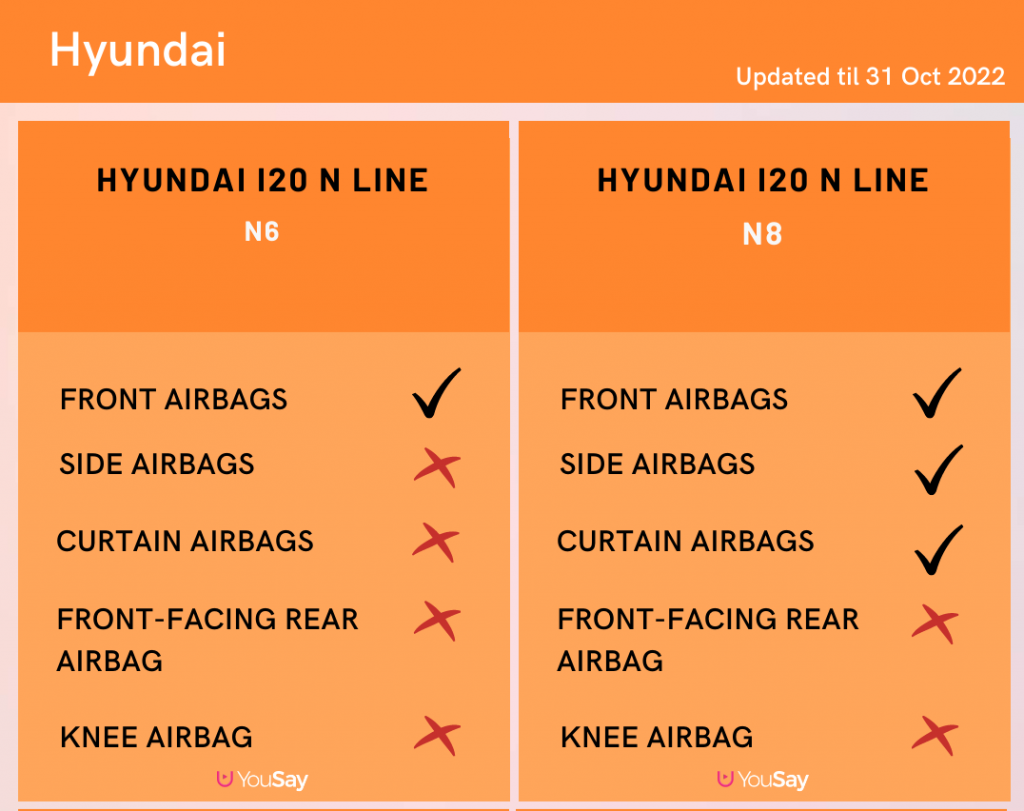 Tata Motors
Tata Motors is an Indian multinational automotive manufacturing company headquartered in Mumbai, Maharashtra, India. Its products include passenger cars, trucks, vans, buses, sports cars, construction equipment, and military vehicles. Tata Nexon, Punch, Tiago, Harrier, Altroz, Safari, Tigor, Tigor EV, and Nexon EV are the car Models from Tata Motors Check out the images below to see what airbags they offer in their vehicles.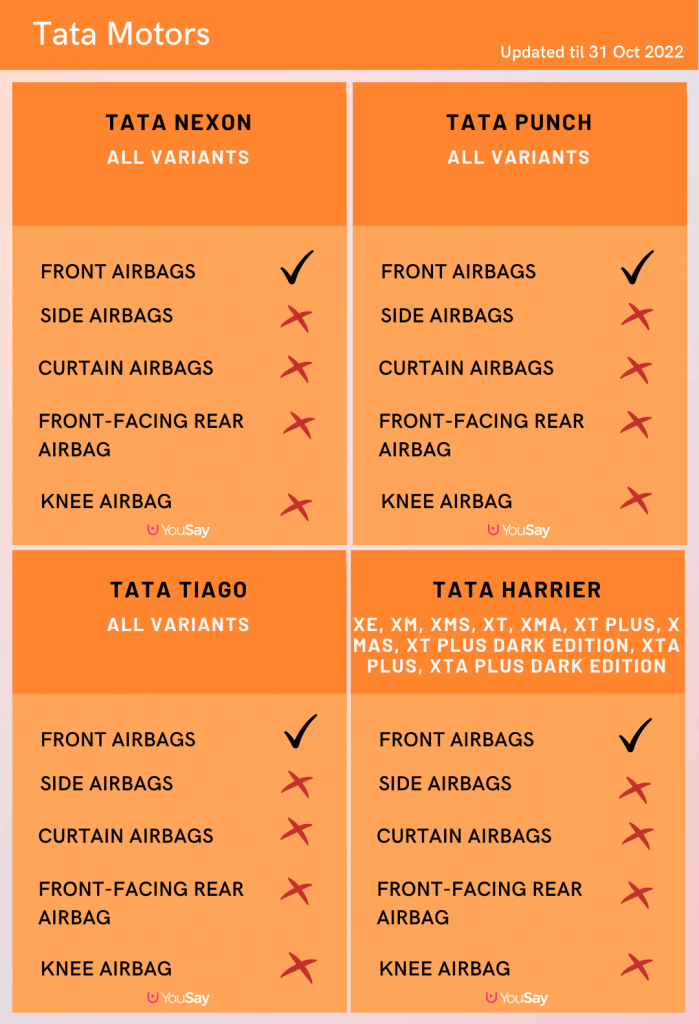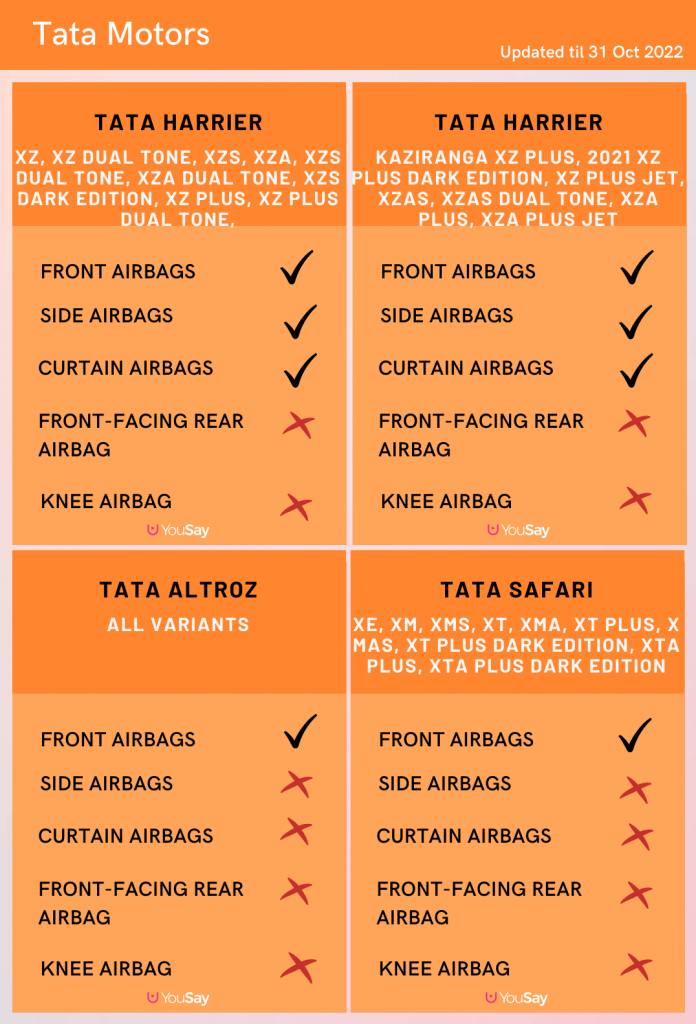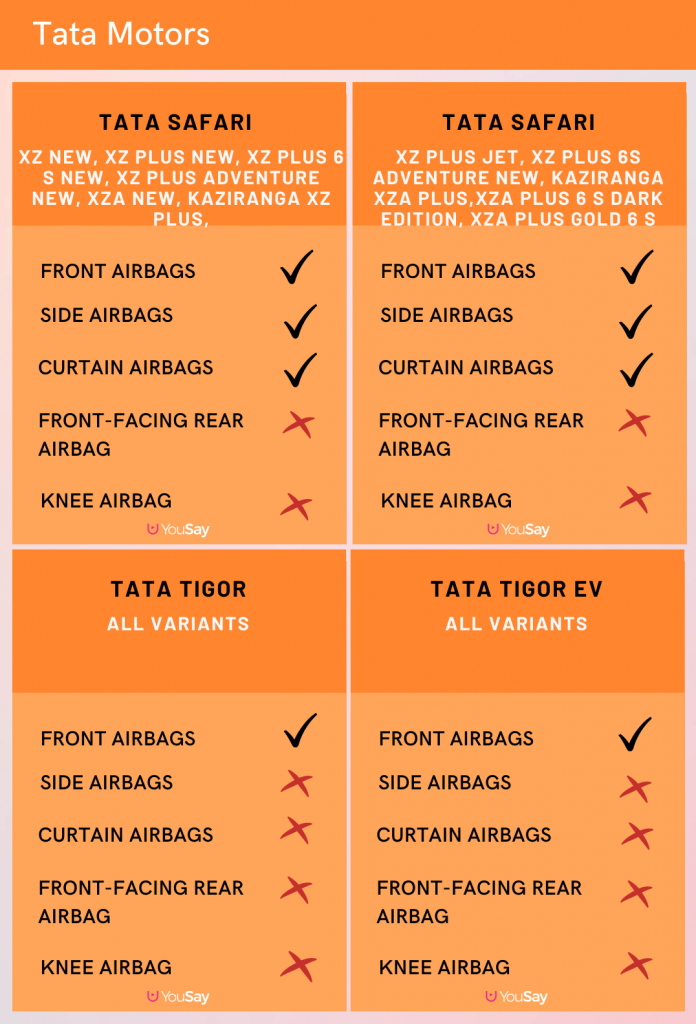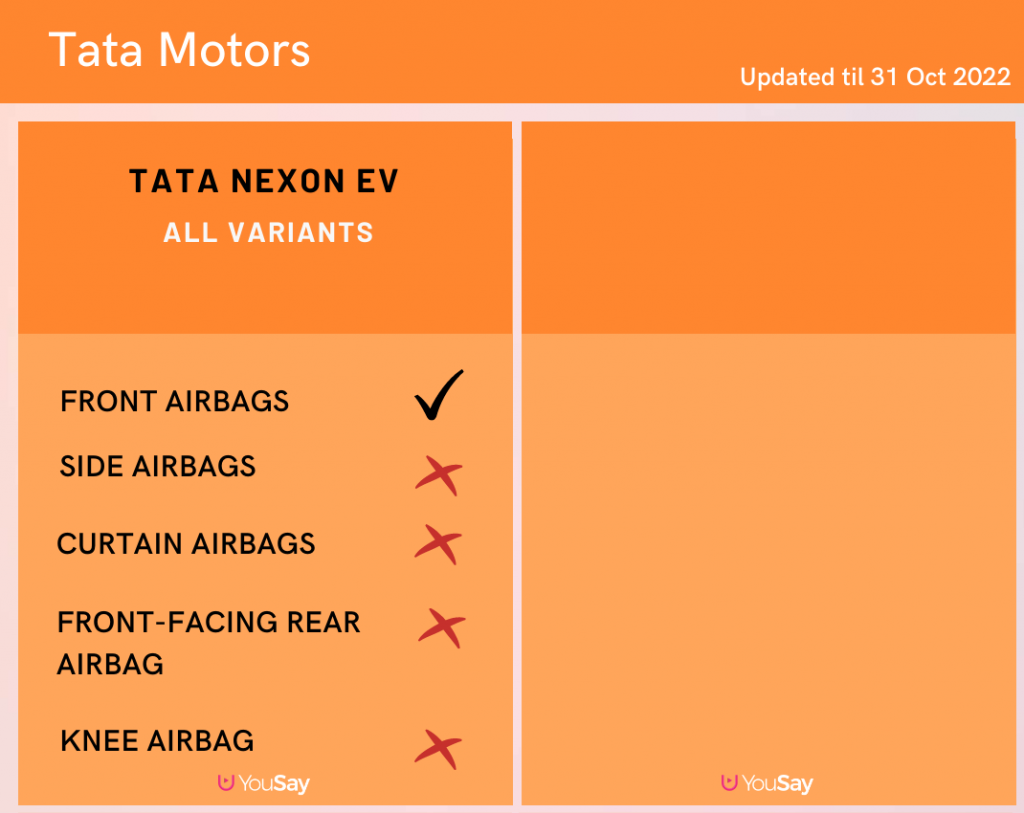 KIA Motors
The South Korean automobile giant KIA Motors entered the Indian market in 2017. Despite being very new to the Indian market, the company has emerged as one of the most popular automobile brands in the Indian market. The company offers a wide range of cars like the Selto, Carens, Carnival, Sonet, and EV 6. The company's 536-acre manufacturing plant is located in the Anantapur district of Andhra Pradesh.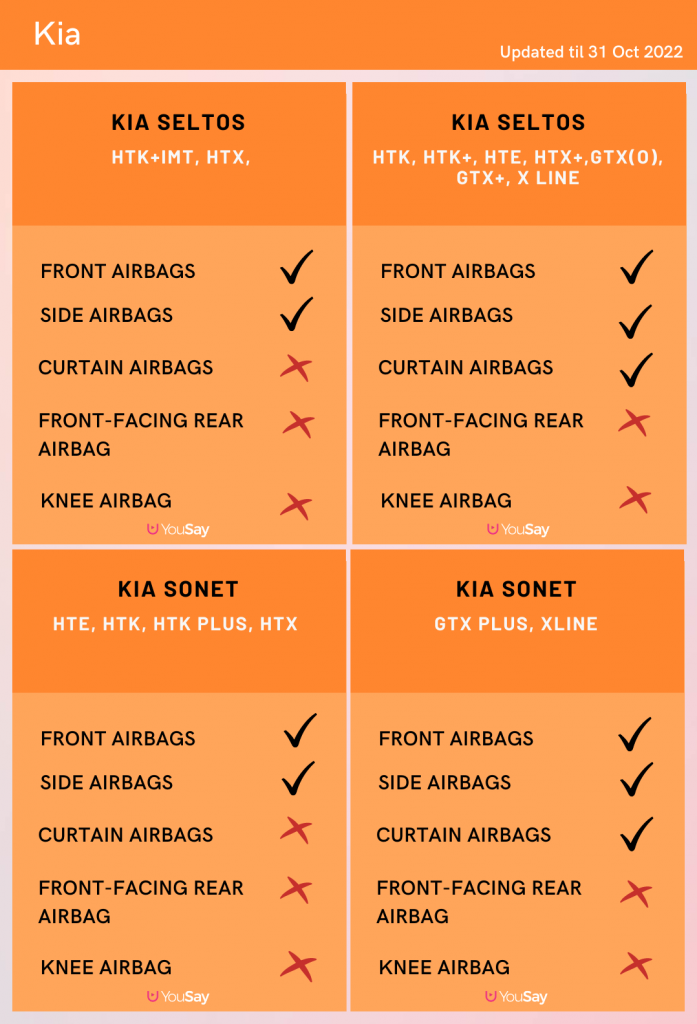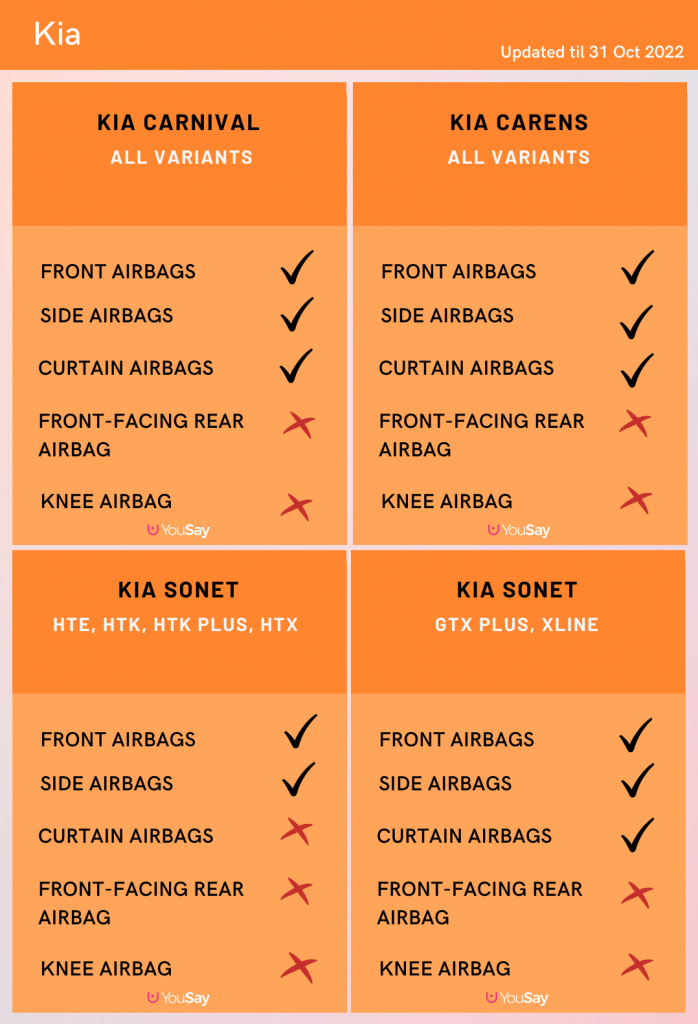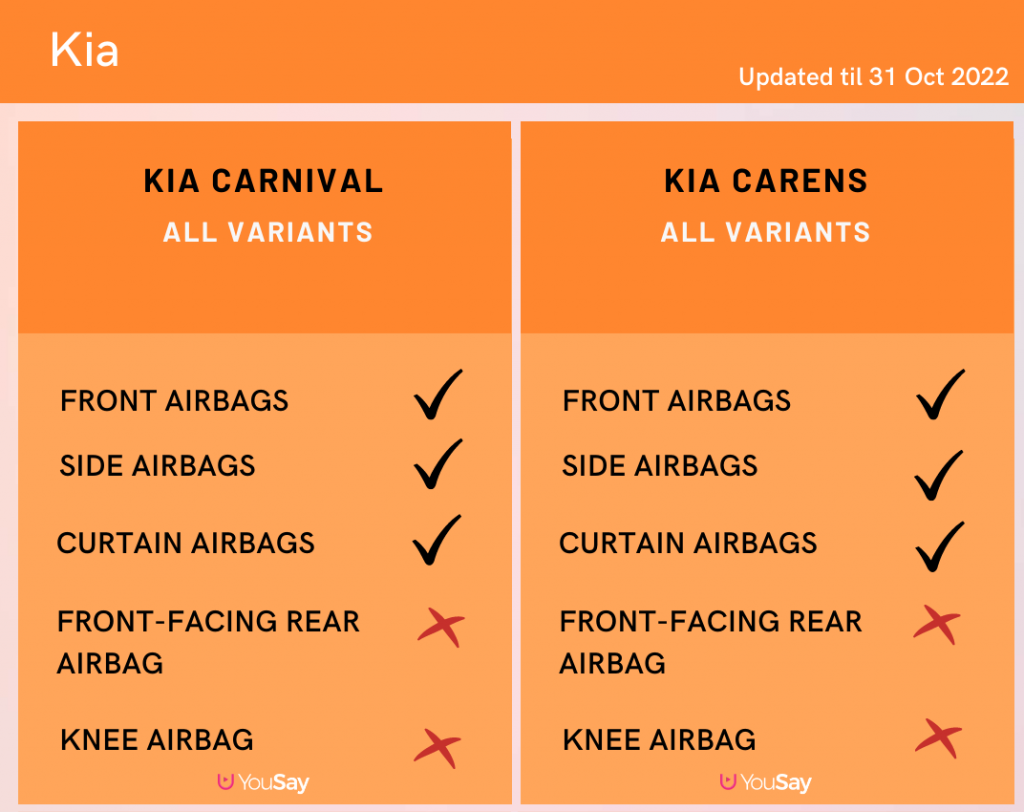 Volkswagen
Volkswagen Group, also called Volkswagen AG, is a top German automobile manufacturer that was founded in 1937. Volkswagen Group India's subsidiary, Škoda Auto Volkswagen India, was founded in 2001. Škoda is also owned by the Volkswagen Group. In the Indian market, the German manufacturer is known for its premium segment vehicles such as the Virtus, Taigun, Polo, Vento, and others. Volkswagen Group also sells its luxury cars Prosche and Lamborghini in India through Škoda Auto Volkswagen India.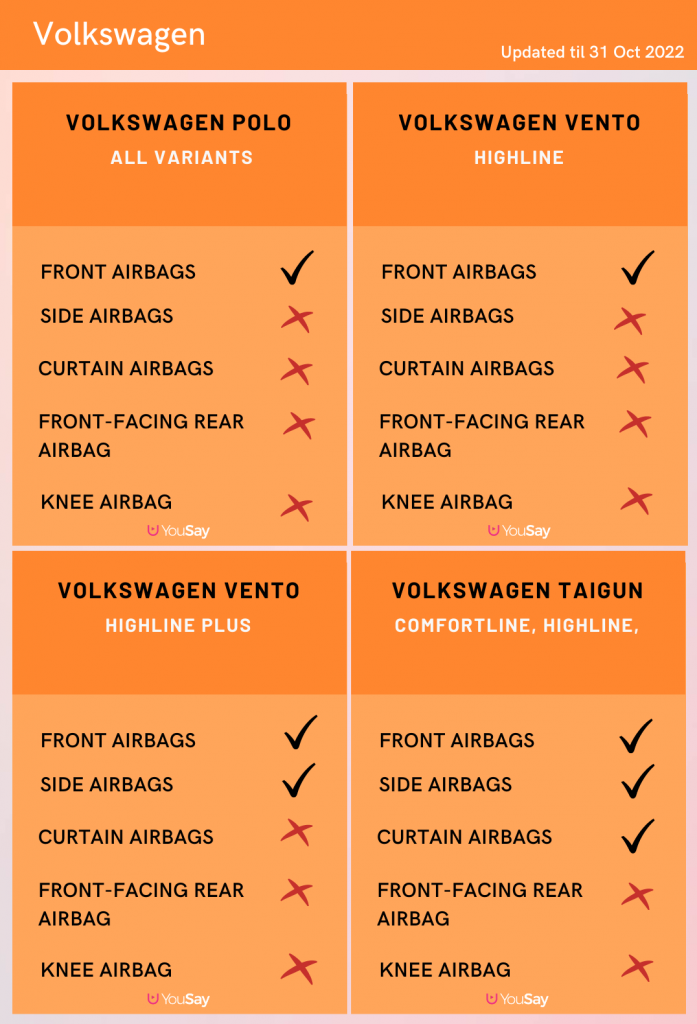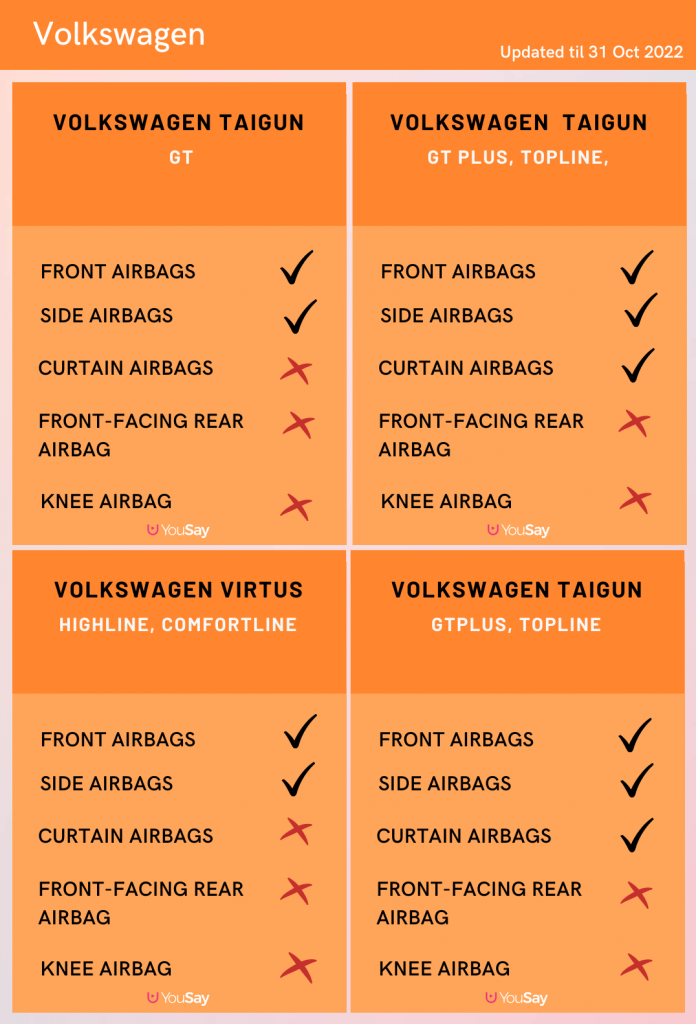 Škoda
ŠKODA Auto is a Czech automobile manufacturer established in 1925. The company started operating its Indian subsidiary in 2001 with the name ŠKODA Auto India. The company announced its merger with Volkswagen Group in 2019. India is Škoda's third biggest market after Czech Republic and Germany. Škoda offers very attractive models in India like Kushaq, Rapid, Octavia, Kodiaq, Slavia and Superb.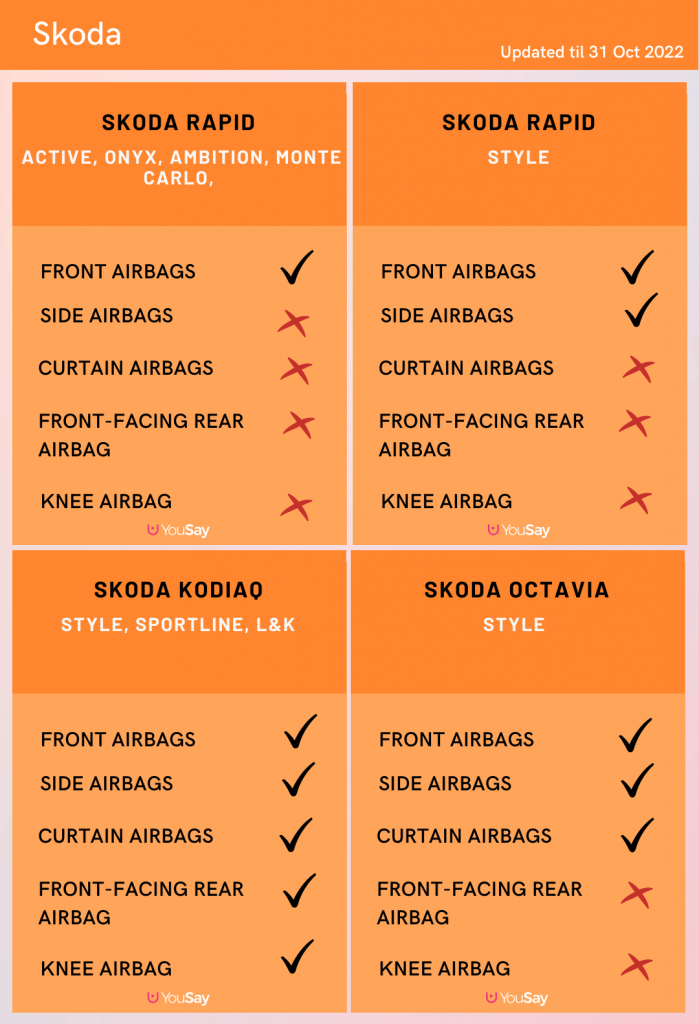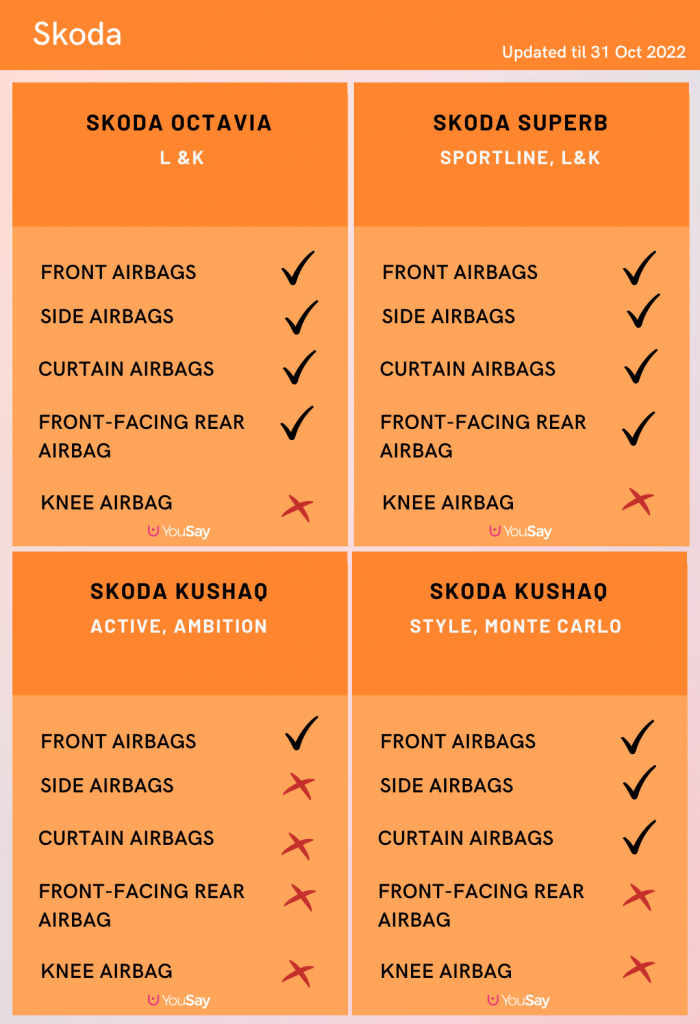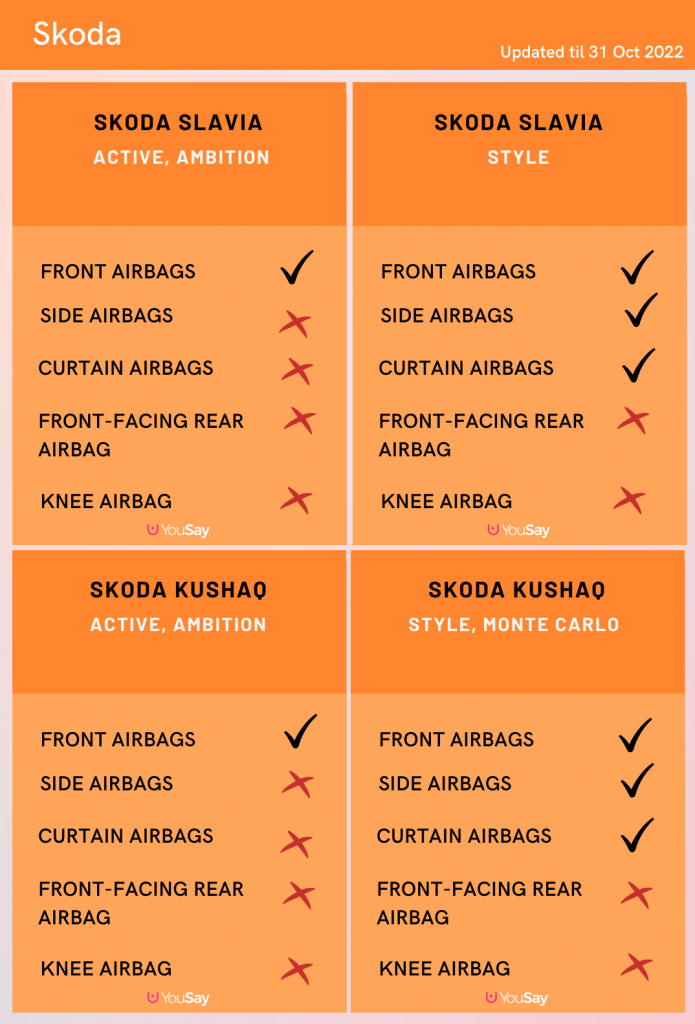 Toyota
Toyota Motor Corporation is a Japanese multinational automotive manufacturer founded in 1937. Toyota is one of the largest automobile manufacturers in the world. The Indian subsidiary "Toyota Kirloskar Motor" was started in 1997 as a joint venture between Toyota Motor Corporation and Kirloskar Group. Toyota India produces a premium range of cars in the Indian market, which includes the Glanza, Urban Cruiser, Fortuner, Hilux, Innova Crysta, Innova Hycross, Camry Hybrid, and Vellfire Hybrid.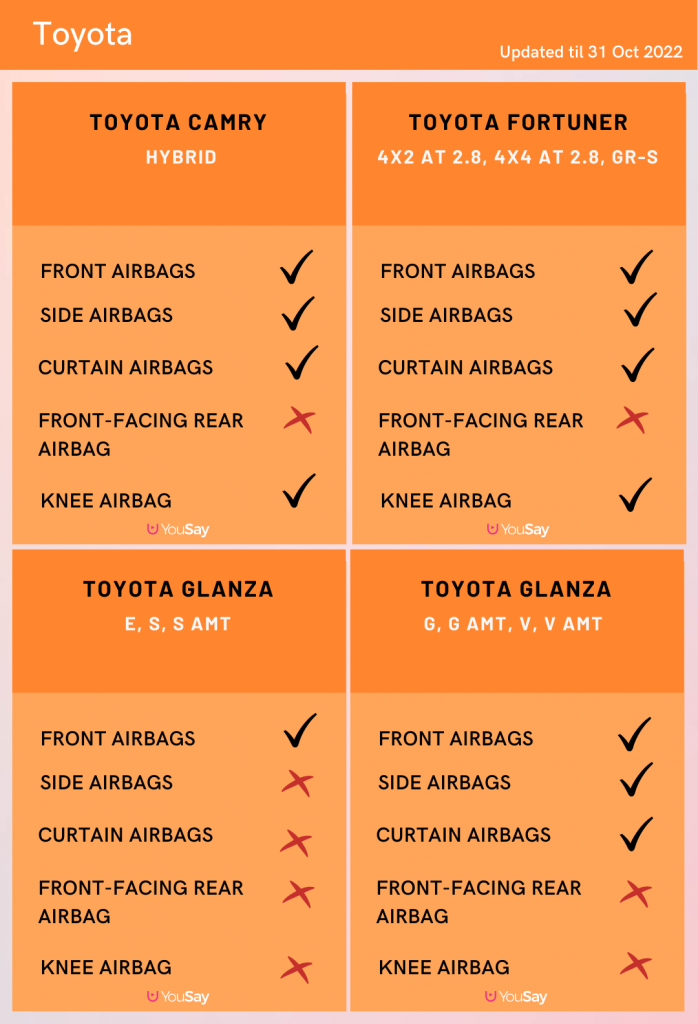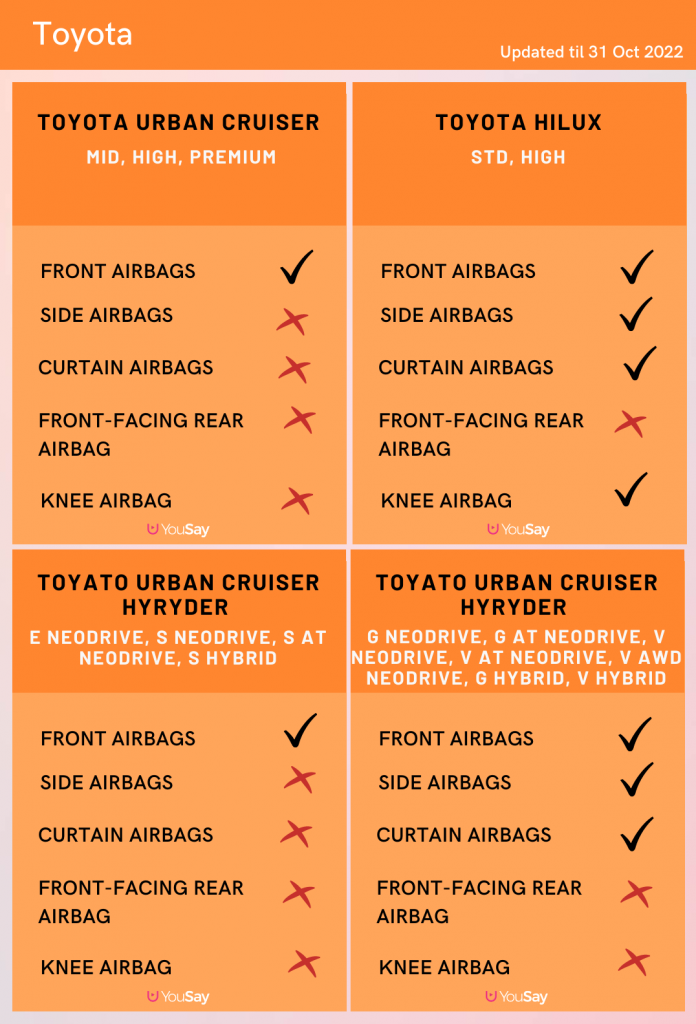 MG Hector
Morris Garage (MG) or M.G. Car Company Limited is a British automobile manufacturer founded in the 1920s. It is now owned by Chinese automaker SAIC Motor Corporation Limited. MG entered the Indian market in 2017 and began selling in 2019. It capitalized on the SUV market in India by producing some captivating models like the Astor, Hector, Gloster, and ZS EV.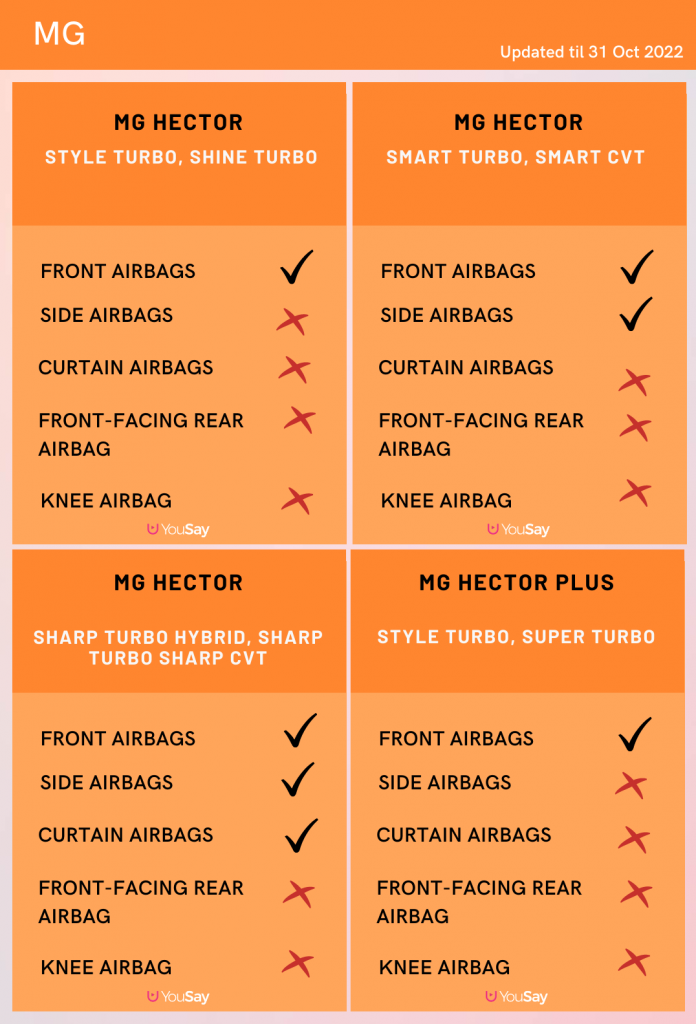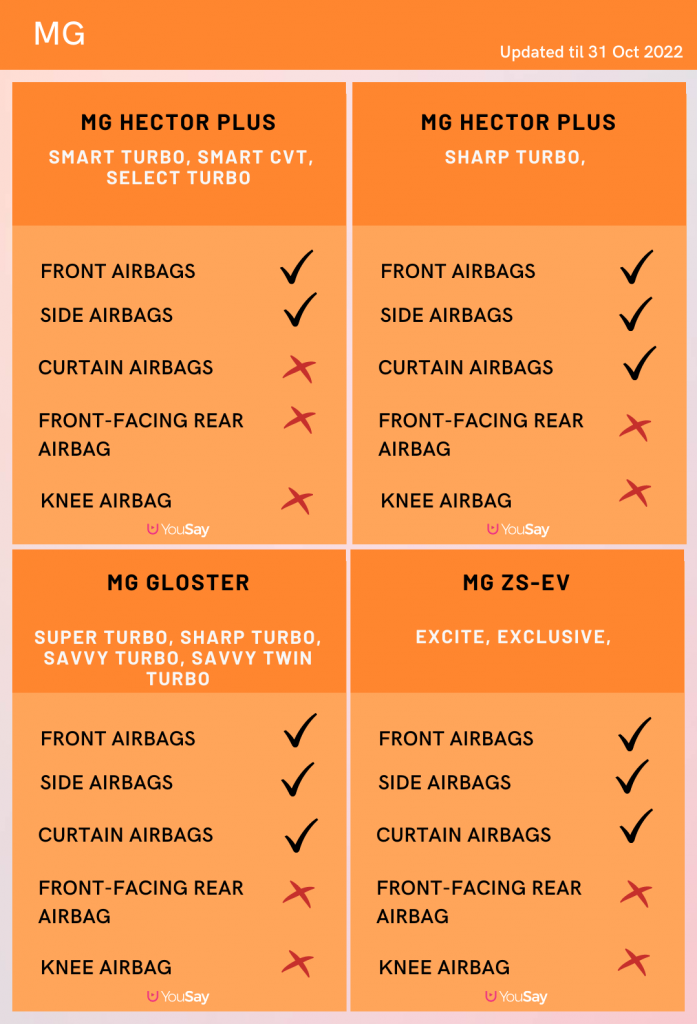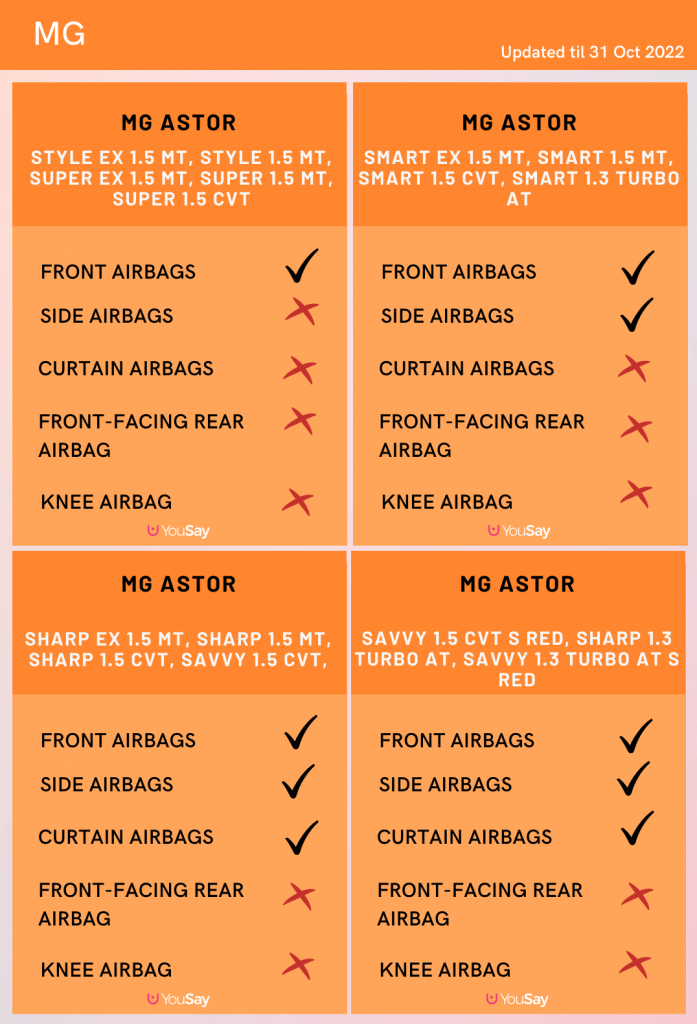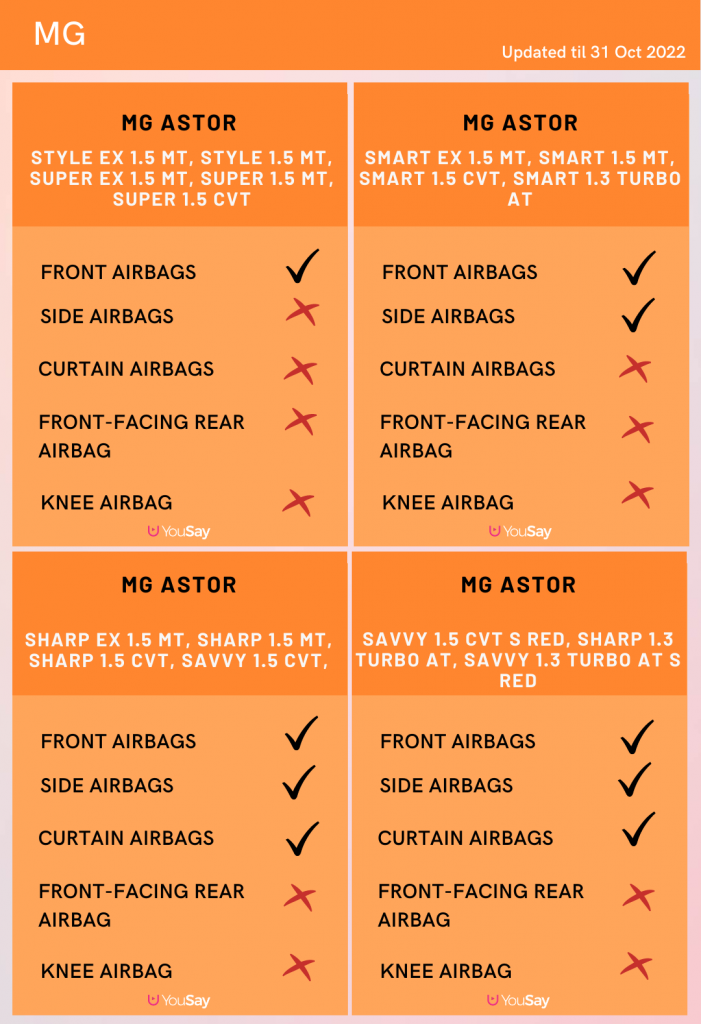 Jeep
Jeep is a subsidiary of Italian automobile manufacturer Fiat Motors. Jeep has been on the Indian market since the late 1990s. Fiat Motors reintroduced Jeep cars in 2017 by introducing the Jeep Compass, which was a big success. The company is known for its premium SUVs and off-roaders; the list includes the Compass, Meridian, Wrangler, and Grand Cherokee.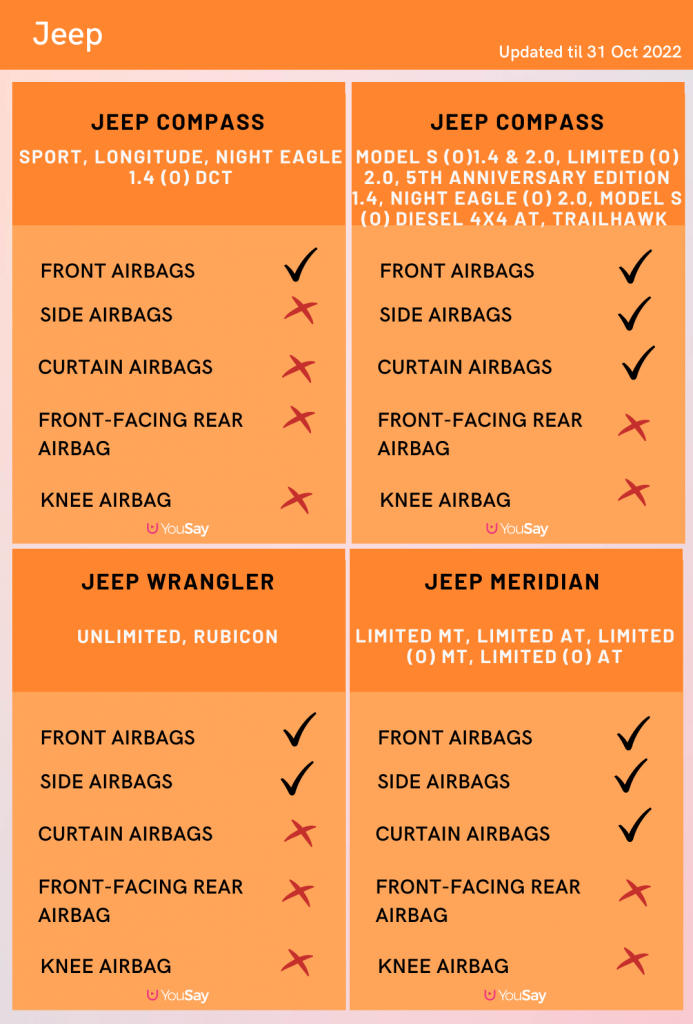 Nissan
Nissan Motor Corporation, often shortened to Nissan, is a Japanese multinational automobile manufacturer. Nissan Motor India Pvt Ltd (NMIPL) has been operating its services in India since 2005. The company also owns the Datsun brand. Nissan offers hatchbacks, MUVs, SUVs, and sedans in India. The models include the Magnite, Kicks, and GT-R.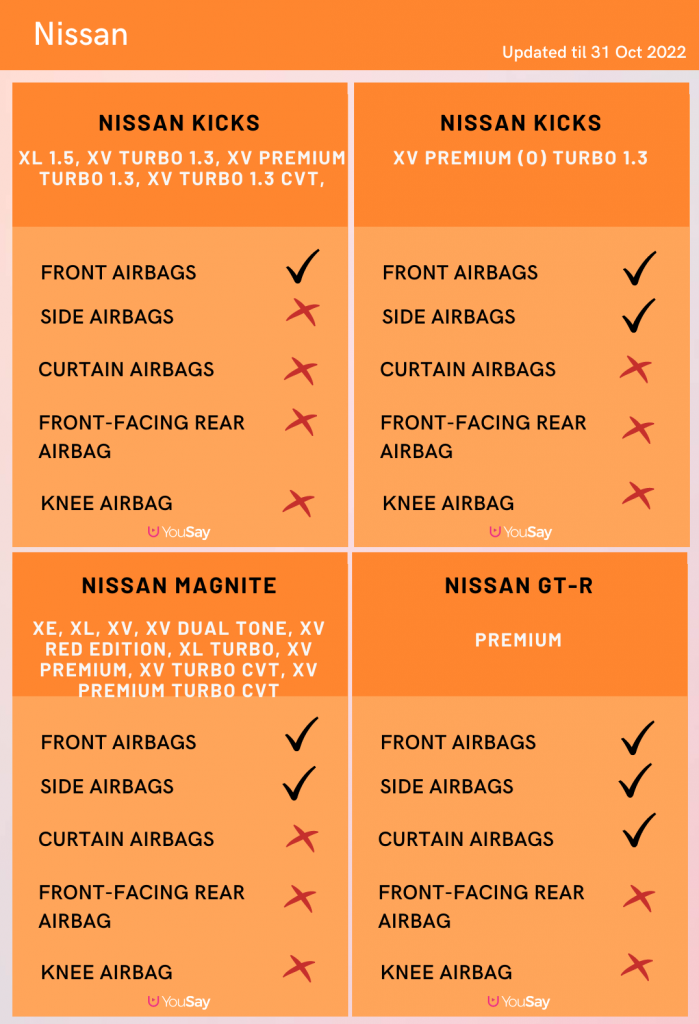 Citroën
Citroën is a French automobile manufacturer that was established in 1919. The French company entered the Indian market as Citroën India in 2021, which is a joint venture between CK Birla Group and Stellantis ( Citroën Owners ). The company has two models C5 Aircross and C3 Hatchback in Indian markets so far.
Mahindra
Mahindra & Mahindra Limited is a homegrown multinational automotive corporation. The company produces cars, trucks, buses, bikes, bicycles, electric vehicles, and tractors. Mahindra is the biggest tractor manufacturer in the world. In the car segments, Mahindra offers a variety of SUVs like the Bolero, Bolero Neo, Thar, Scorpio, XUV 300 and 700, Marazzo, and Roxor. Mahindra is the third-biggest Indian car manufacturer behind Maruti Suzuki and Tata Motors.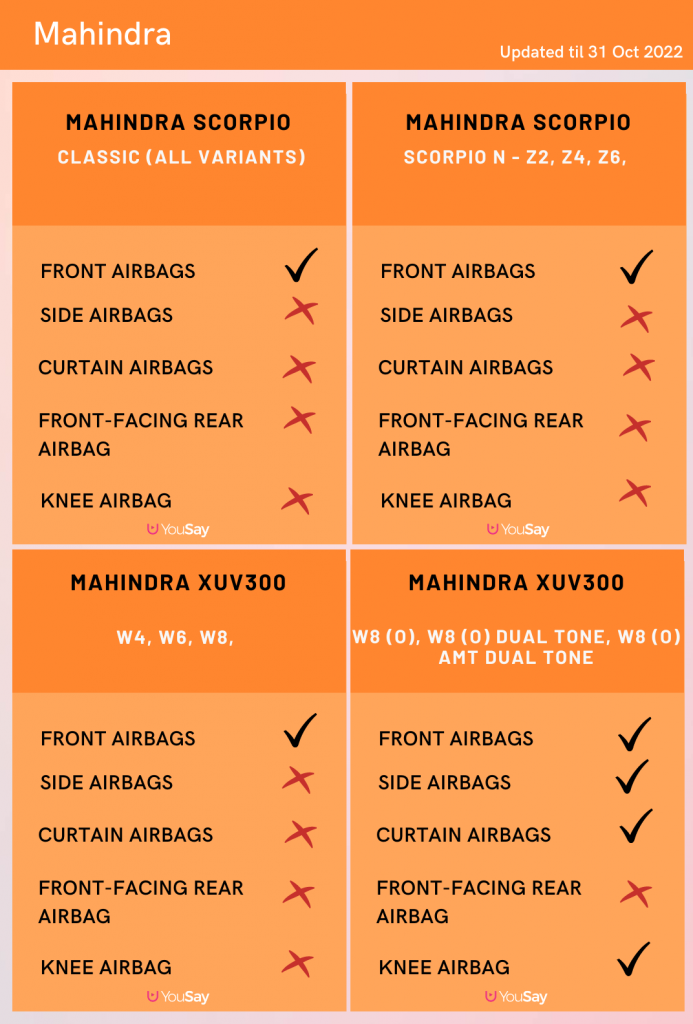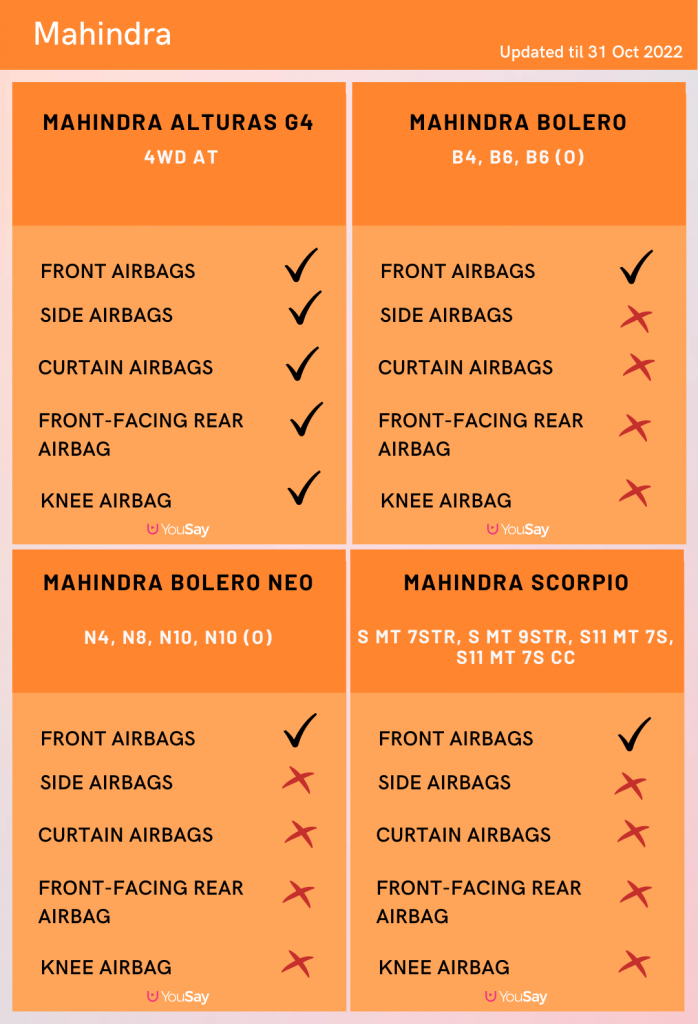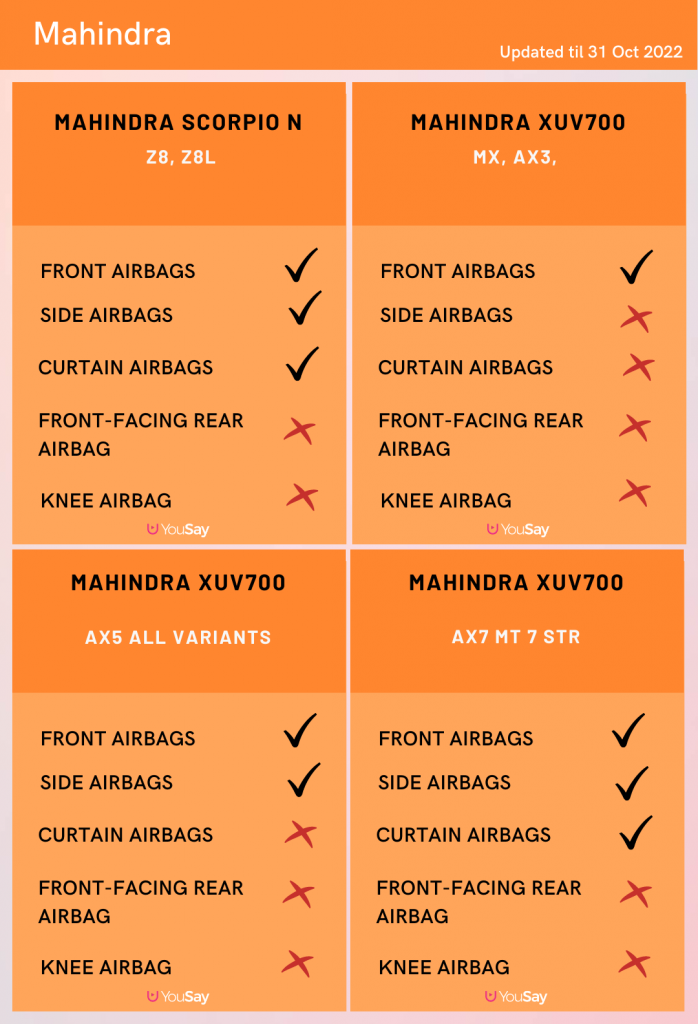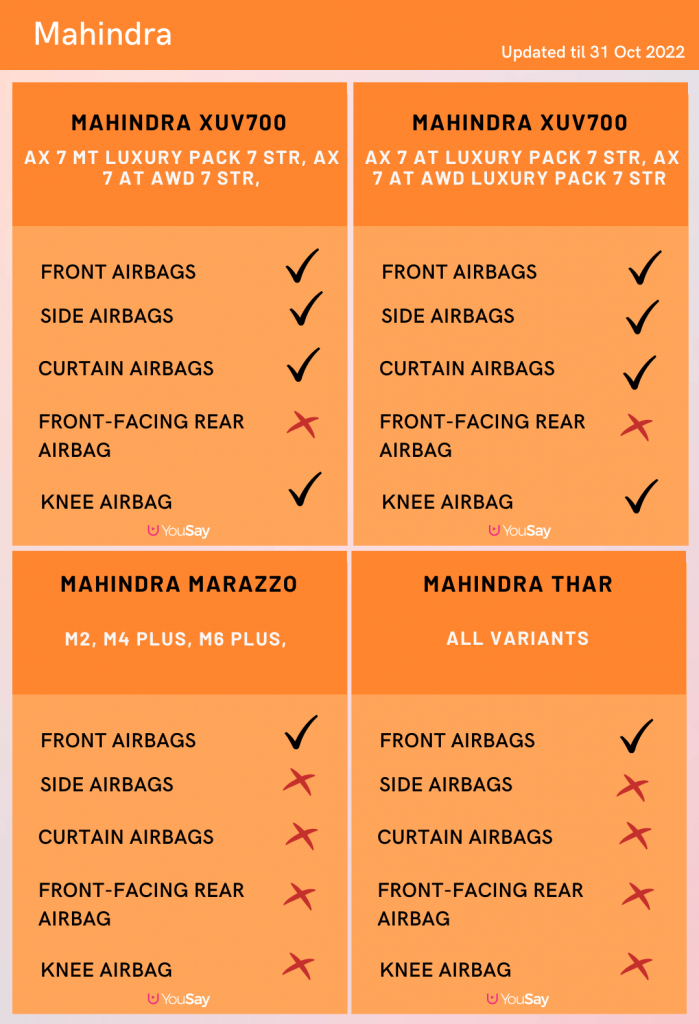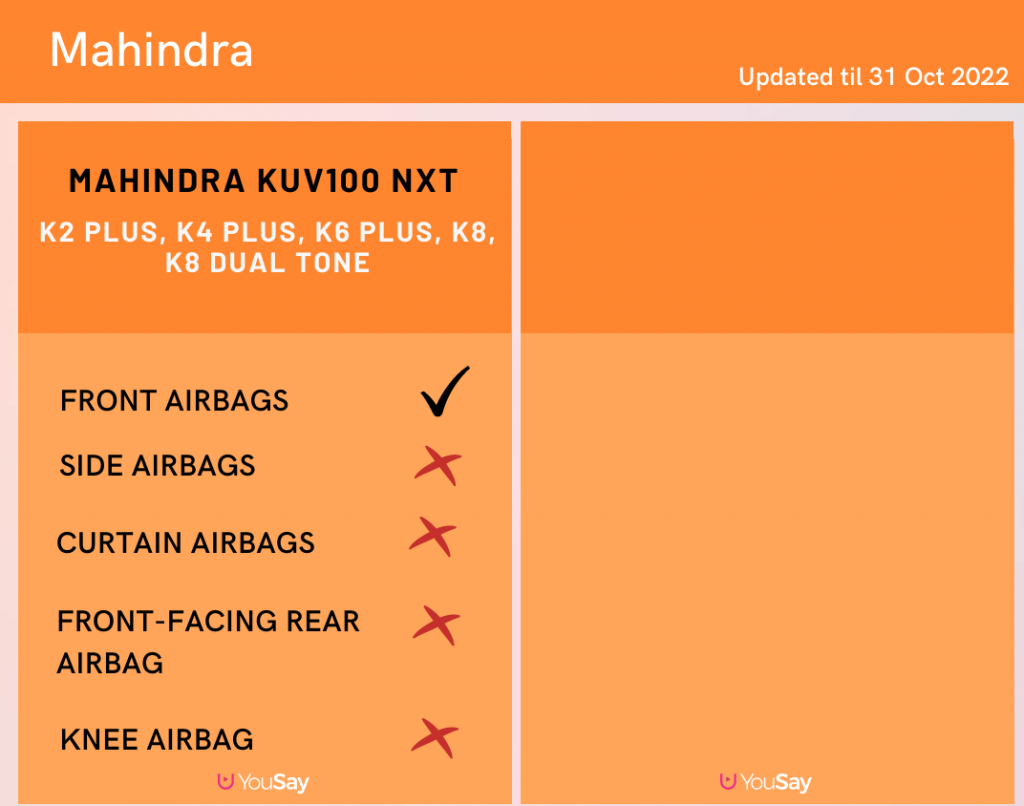 Honda
Honda Motor Co. Ltd., the Japanese automotive giant, is one of the biggest automotive companies in the world. Honda Cars India Ltd. (HCIL) is the Indian subsidiary of Honda, which was established in 1995. Honda Cars India Ltd controls approximately 3% of the Indian automobile market. The company offers premium cars like the Amaze, City, WRV, BRV and City:HEV.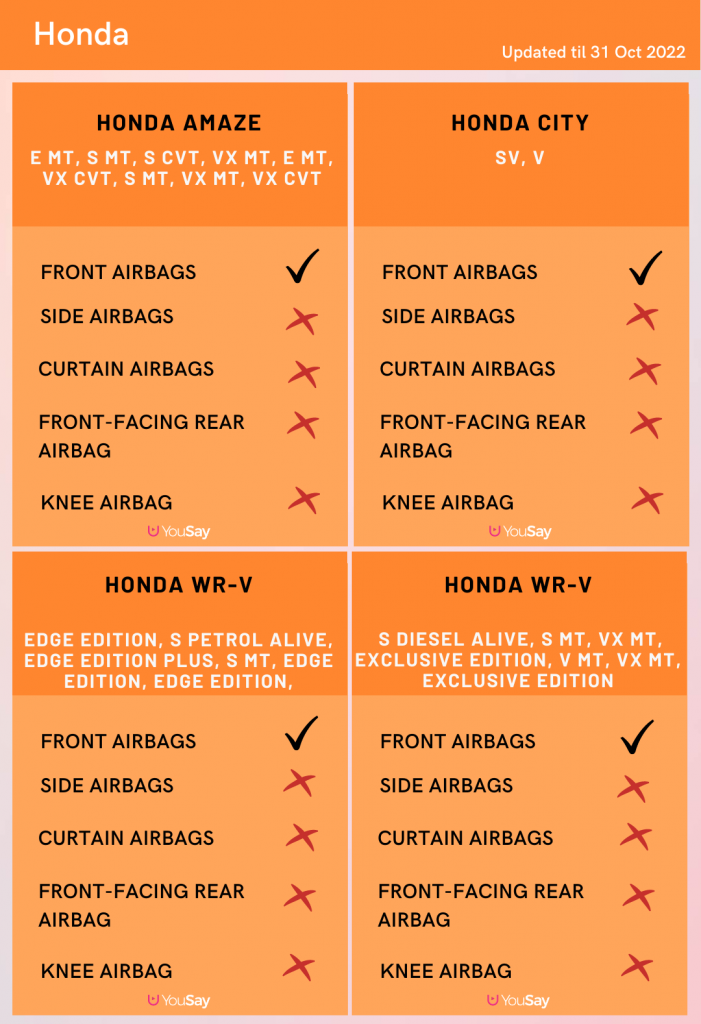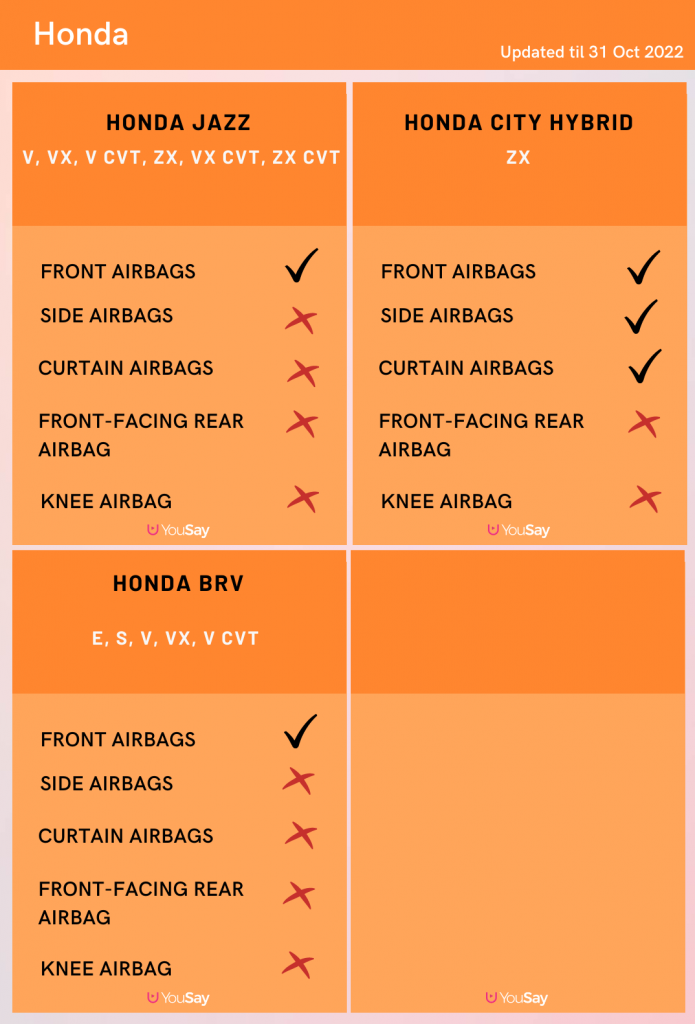 Renault
Groupe Renault is a French multinational automobile manufacturer established in 1899. The company produces a range of cars and vans. The French company runs its services in India through Renault India Private Limited, which was established in 2005. One of India's largest auto manufacturing plants is operated by Renault in partnership with Nissan. Kwid, the compact MPV Triber, and the compact SUV Kiger are the company's three current models sold in India.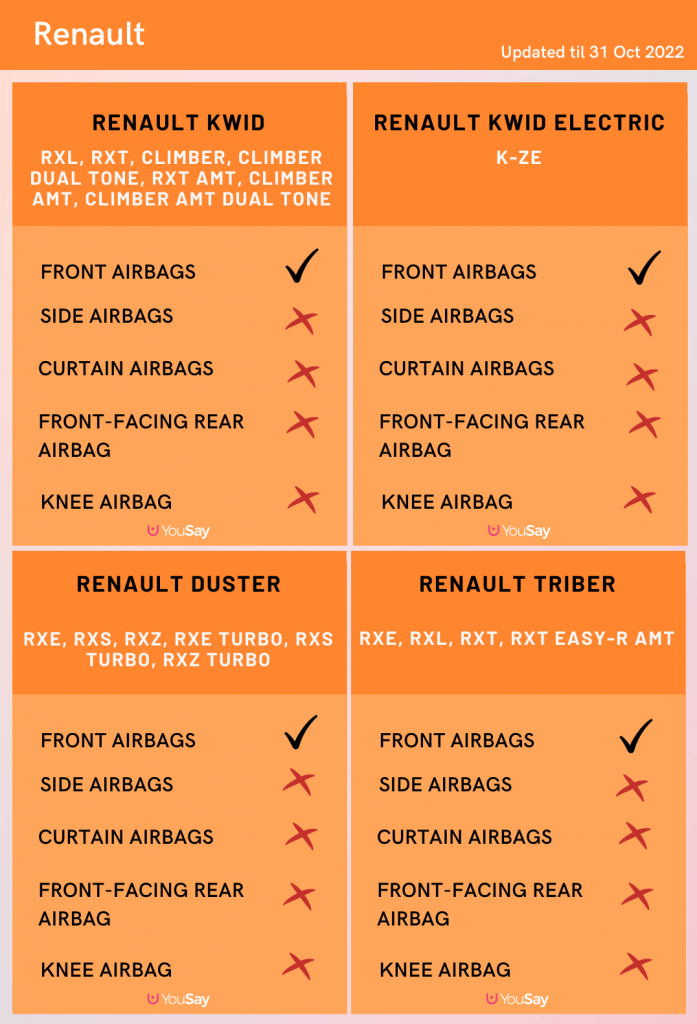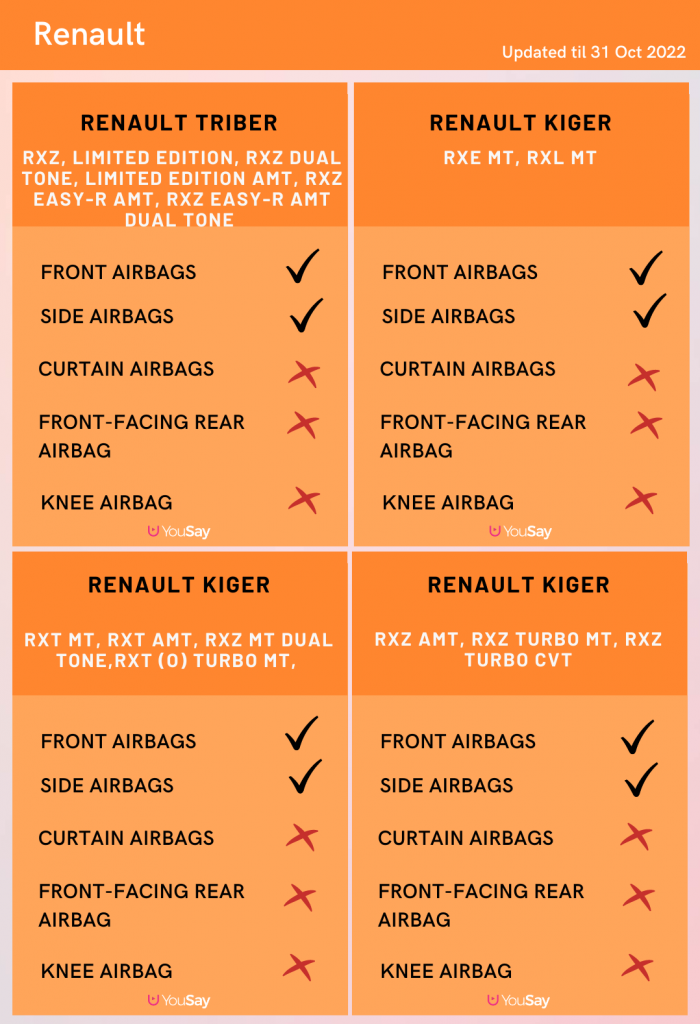 Best Selling Luxury Cars and Their Safety Features
Mercedes-Benz
The German company is well recognised for its high-end automobiles. It is one of the most well-known and reliable car brands in the world. Its incredible sports car, SUV, sedan, and other vehicle designs have had a significant influence on the automotive industry. Among the variations offered in the Indian market are the Mercedes-Benz Bd Class, Mercedes GLC, Mercedes A-Class, Mercedes GLA, Mercedes GLS, Mercedes C-Class, and Mercedes GLE.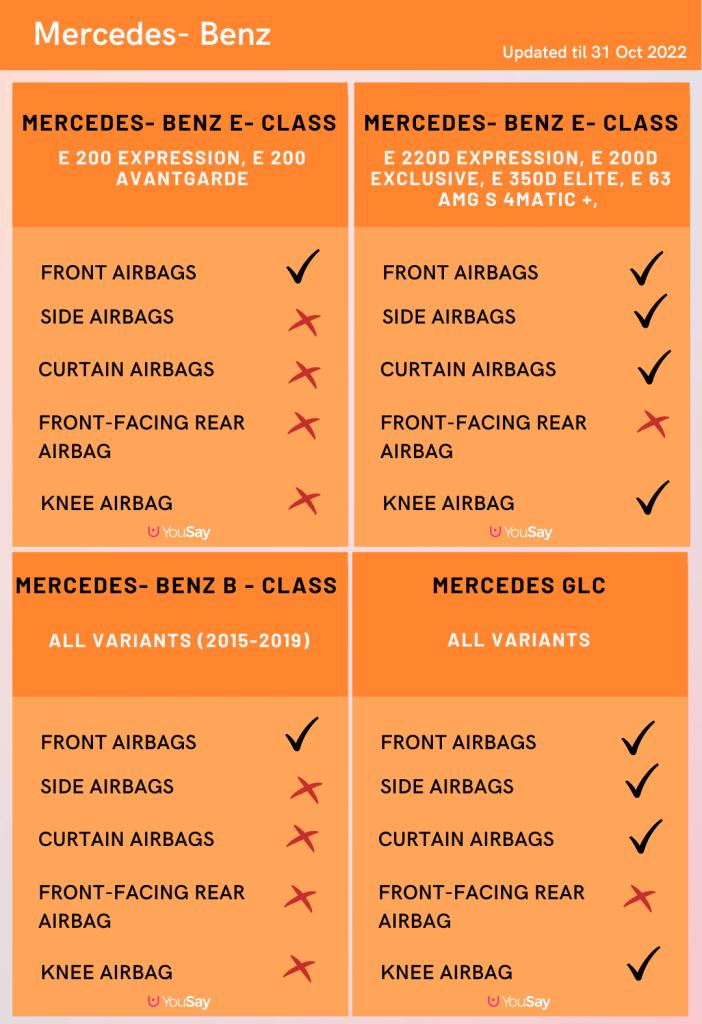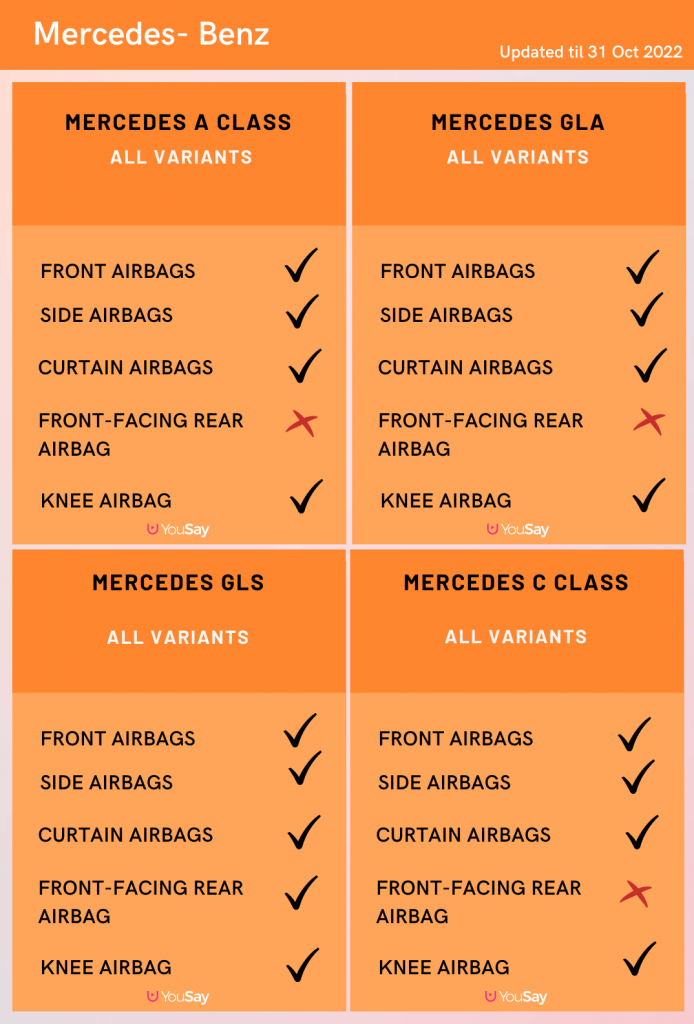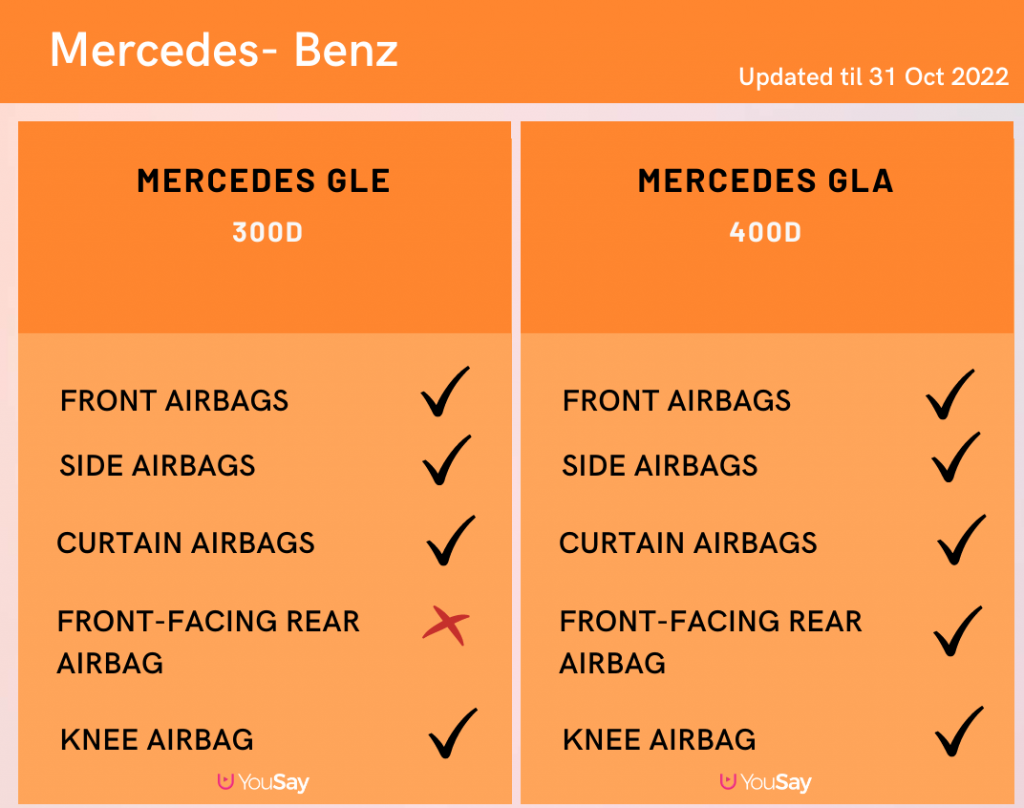 BMW
BMW is a well-known German automaker that produces ultramodern luxury vehicles that are brimming with cutting-edge technology, high performance, and power refinement. In the premium automotive sector, BMW has a strong global presence. The company sells the BMW X1, X3, X5, and BMW 6,5,3,2 series in the Indian market.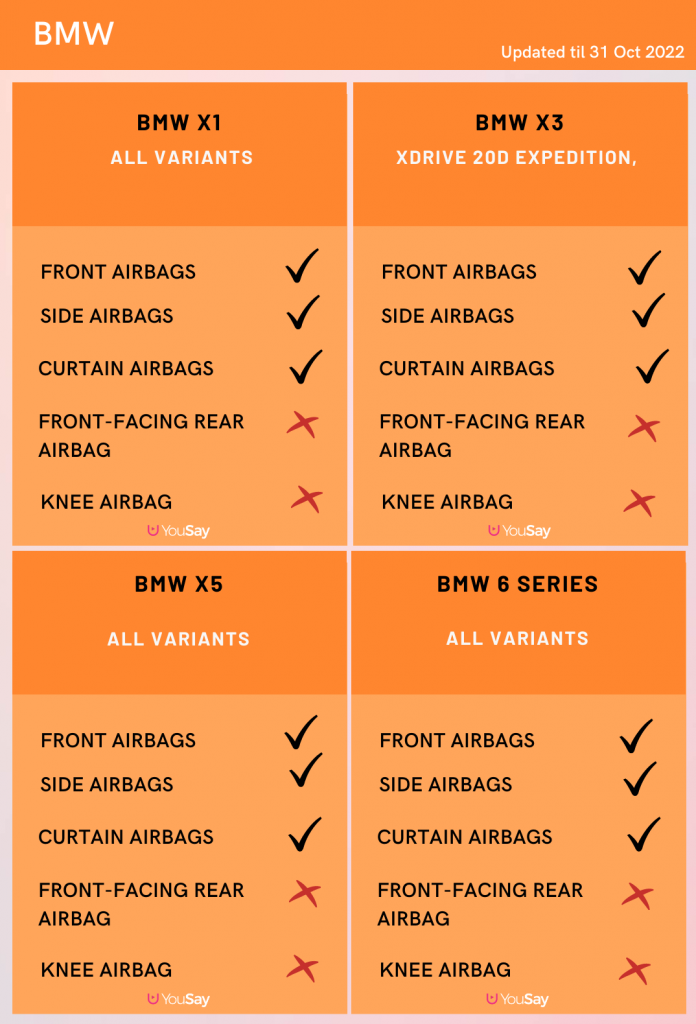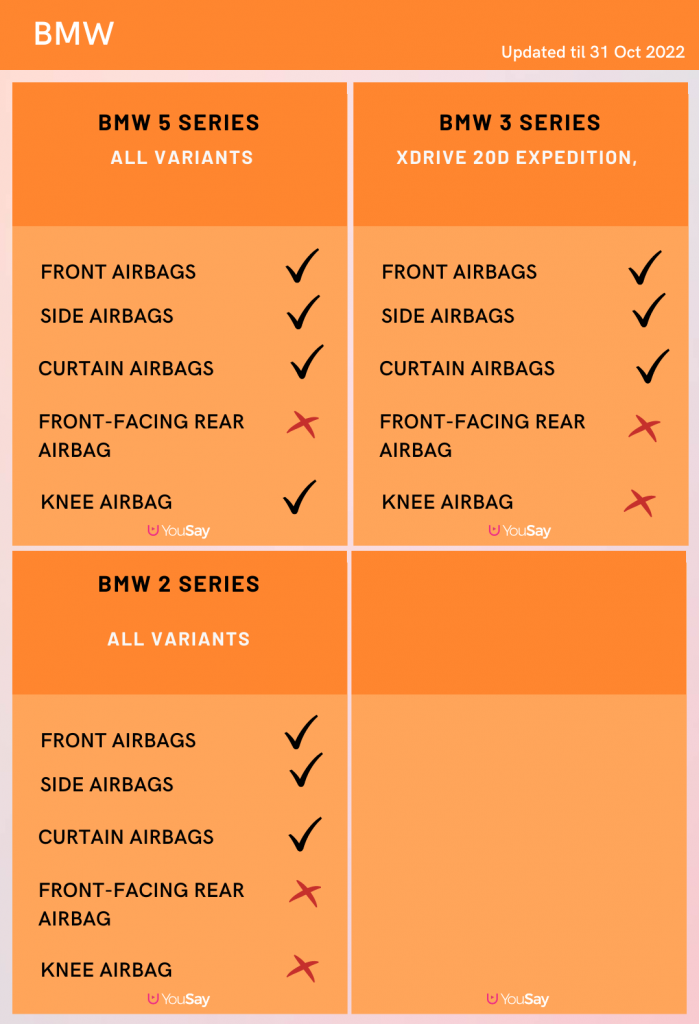 Audi
German luxury automobile maker Audi is well renowned for its high-performance cars. Audi is a subsidiary of its parent company, Volkswagen. ' Being Ahead Through Technology ' is Audi's tagline. One of the most popular luxury car brands worldwide, along with BMW and Benz, is Audi. Models of the Audi A4, Q2, and A6 are offered in the Indian market.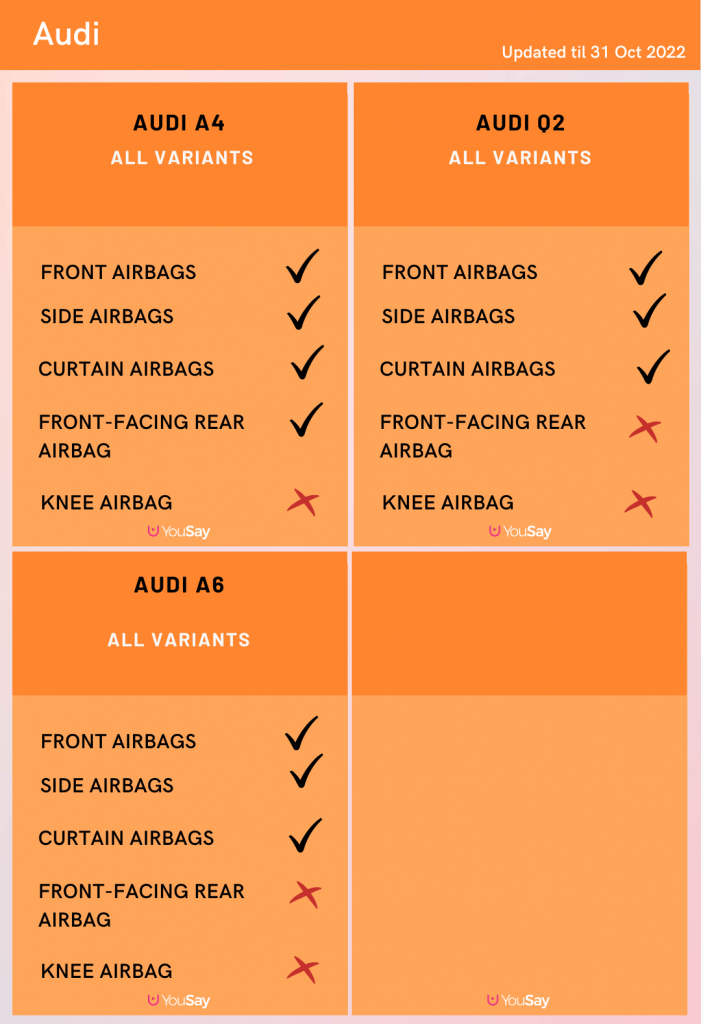 Volvo
Volvo is a premium automobile maker from Sweden that is renowned across the world for its stylish and safe SUVs. Despite producing high-end products, the brand has a sizable market share in India. The Volvo XC60, XC60, and XC90 are some of the models that Volvo presently sells to Indian consumers.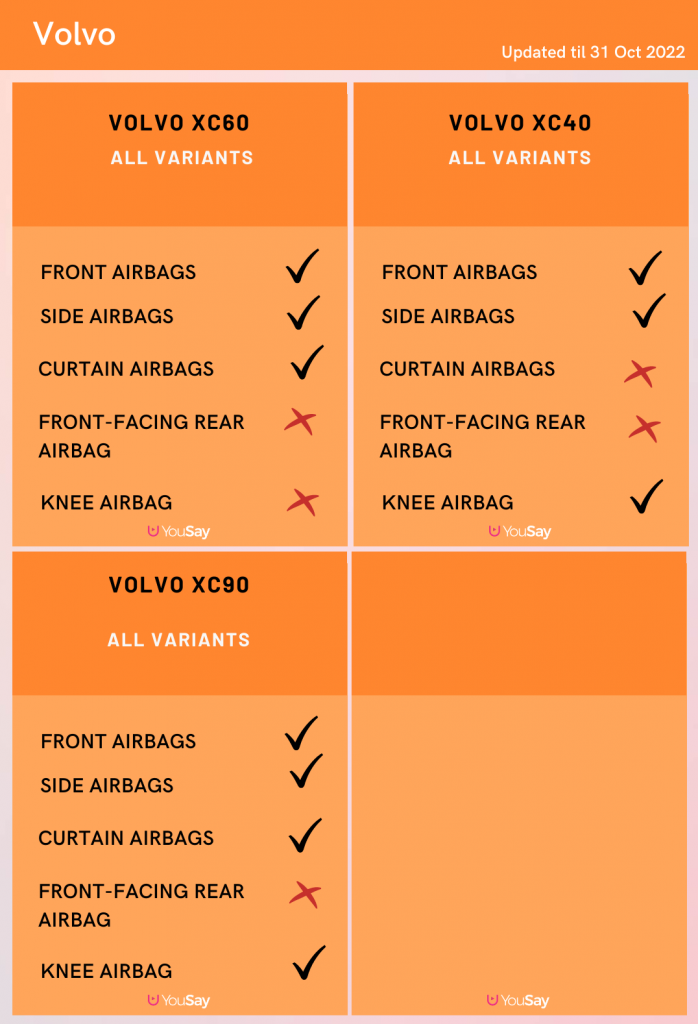 Ford
Ford is a reputable American automaker that sells cars in both the premium and entry-level price ranges. One of the most well-liked luxury cars in Indian markets is the Ford Mustang.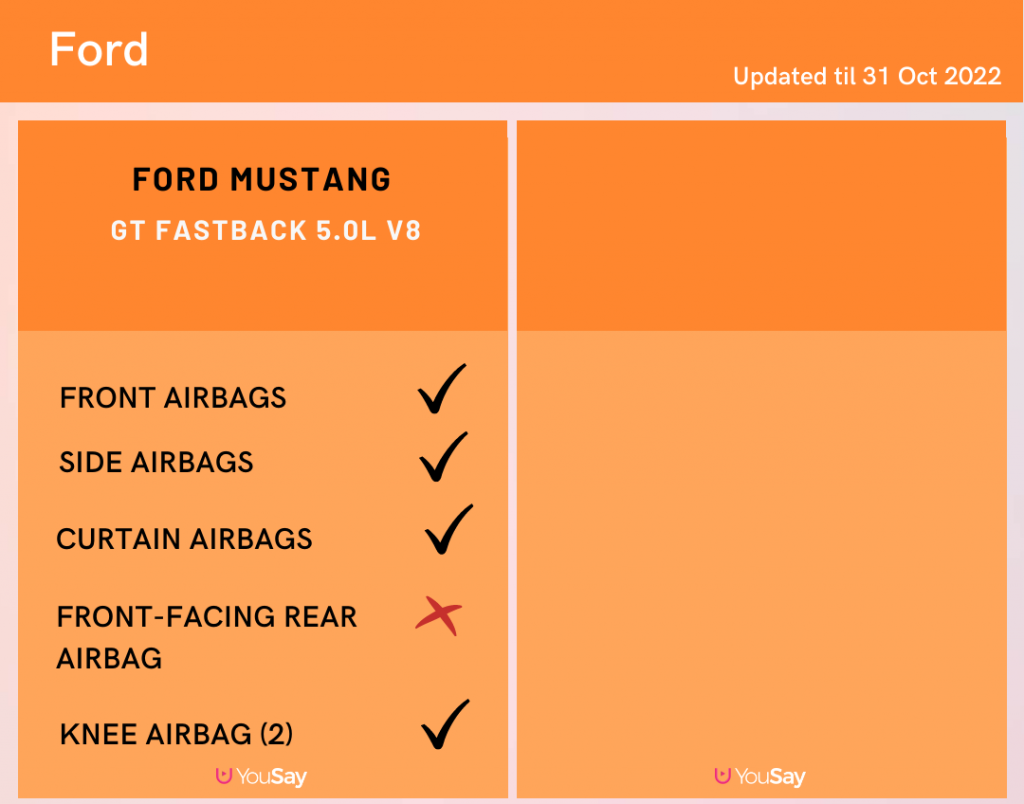 Jaguar
Jaguar, the Tata Motors-owned British luxury car company is well renowned for its slick, high-performing automobiles.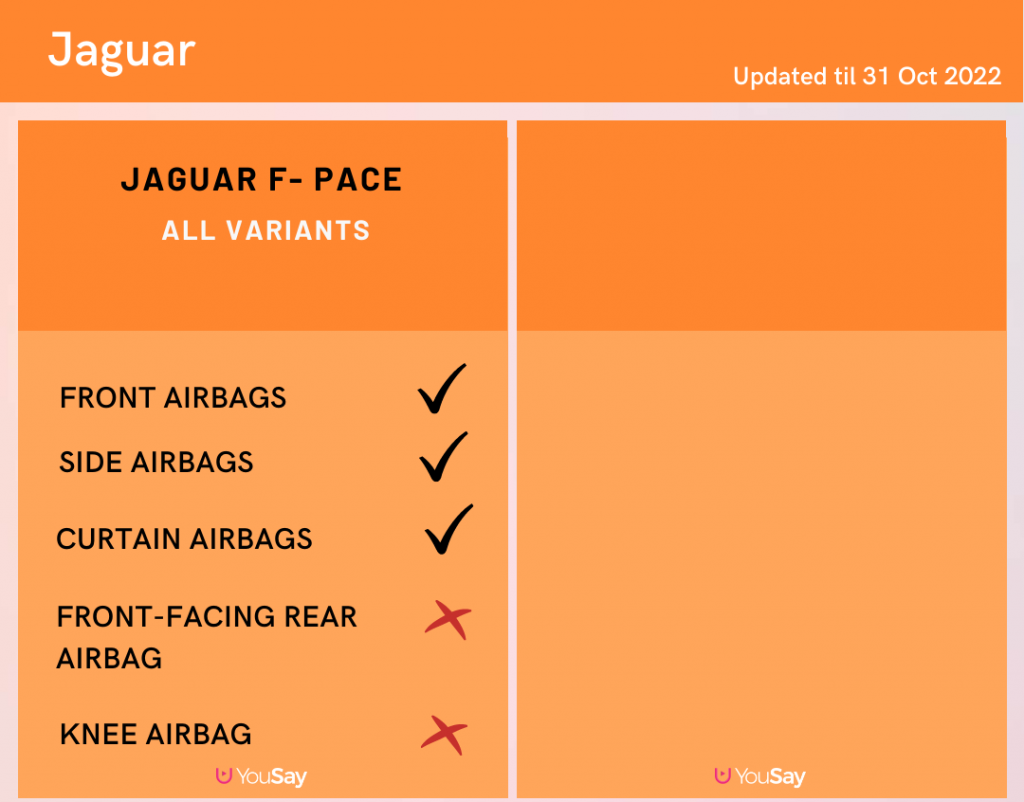 Land Rover
Tata Motors' subsidiary Jaguar Land Rover produces high-end automobiles. Under the Land Rover brand, cars are offered in the Indian market: the Range Rover Velar and the Range Rover Evoque.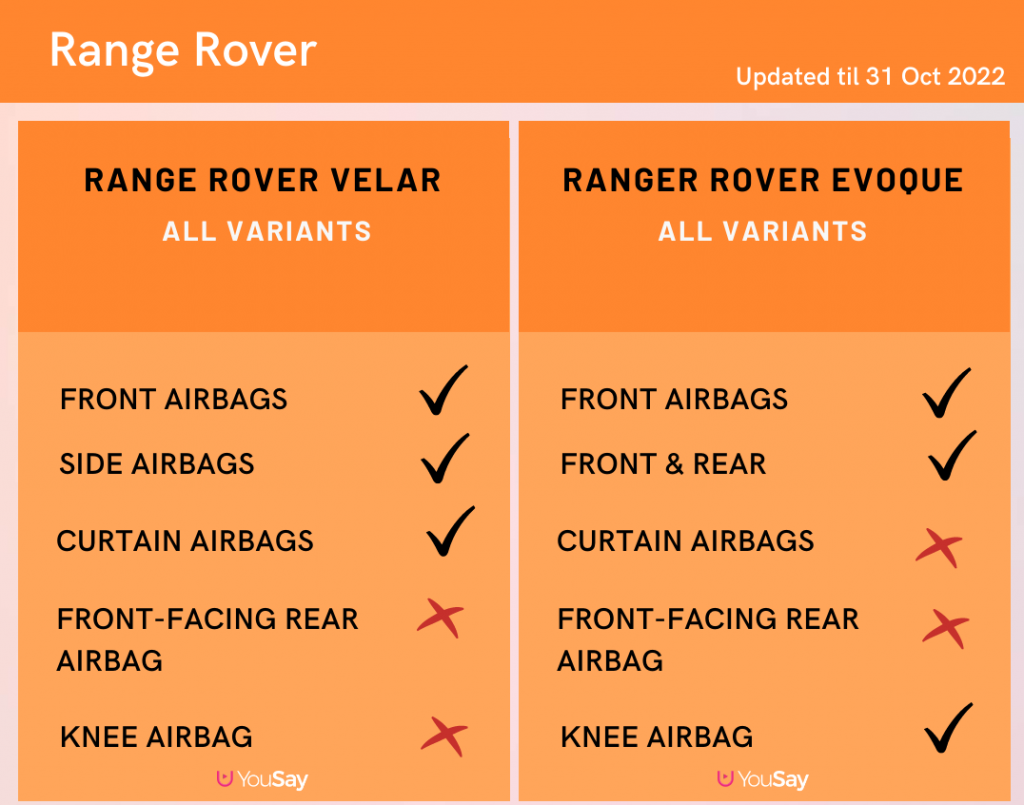 Mini
In 1994, BMW purchased the British automaker Mini. Mini automobiles are well-liked all around the world for their incredibly elegant appearances and top-notch performance.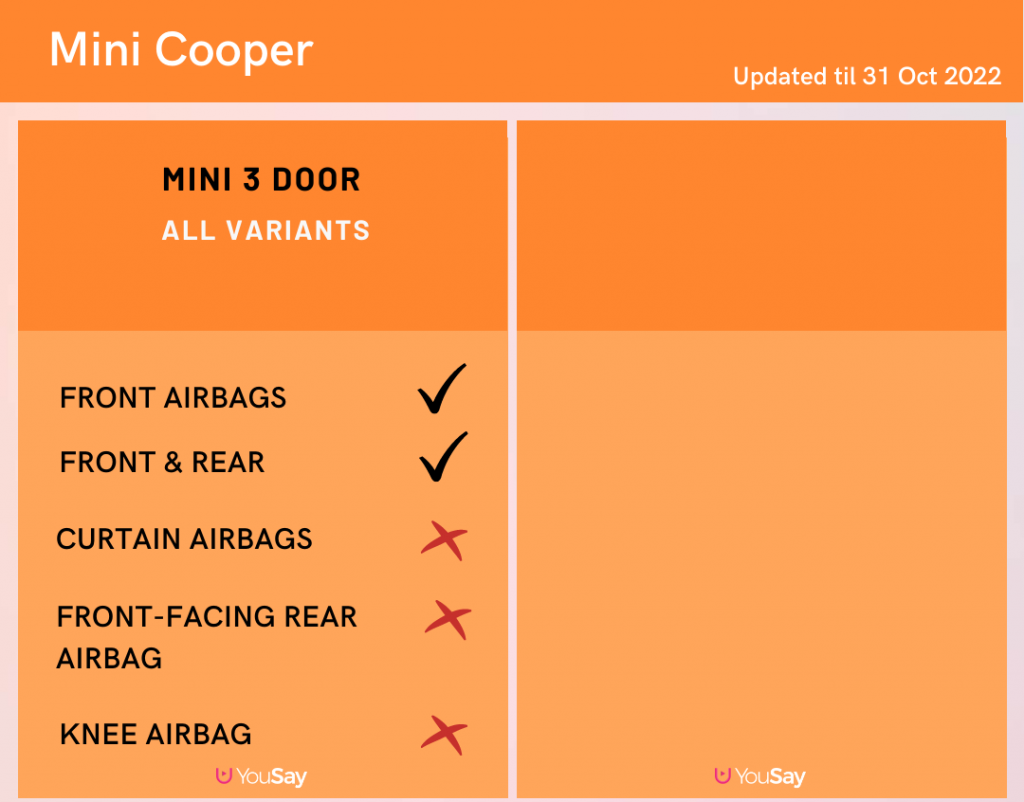 Bentley
The premium SUVs produced by the British luxury automobile manufacturer are renowned across the world.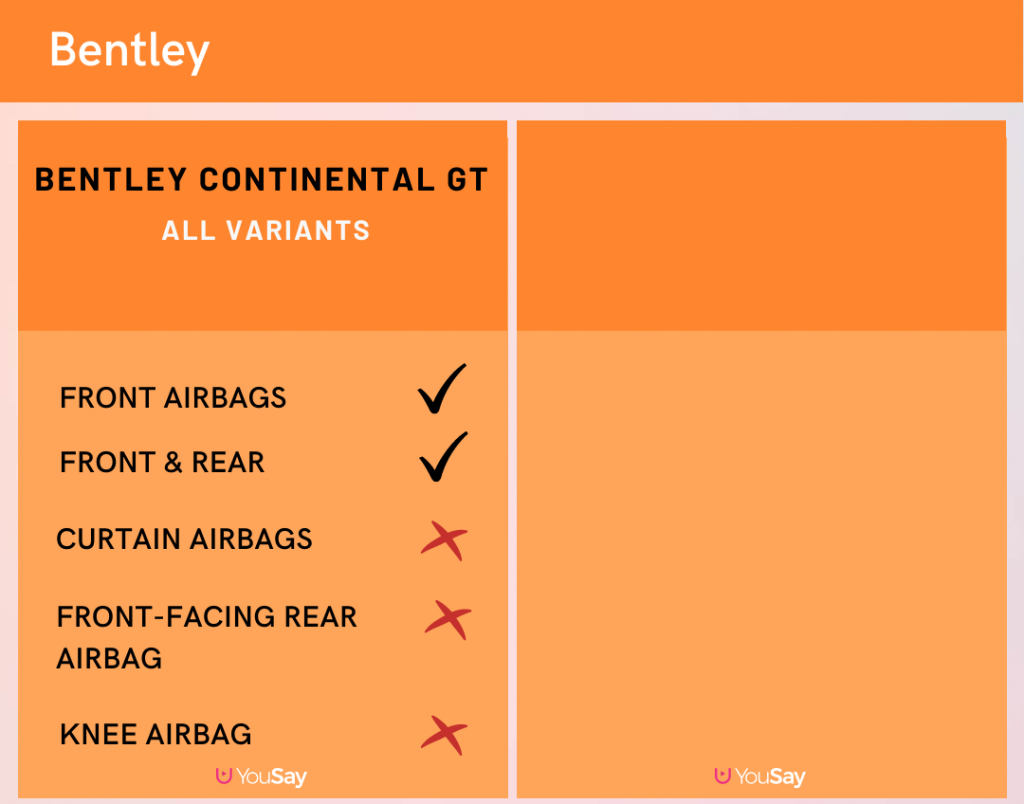 Rolls-Royce
The only manufacturer that builds automobiles on demand is the British luxury automaker Rolls-Royce. In contrast to other automobile manufacturers, the production of a Rolls-Royce car takes months. The most luxurious automobile brand in the world is Rolls-Royce.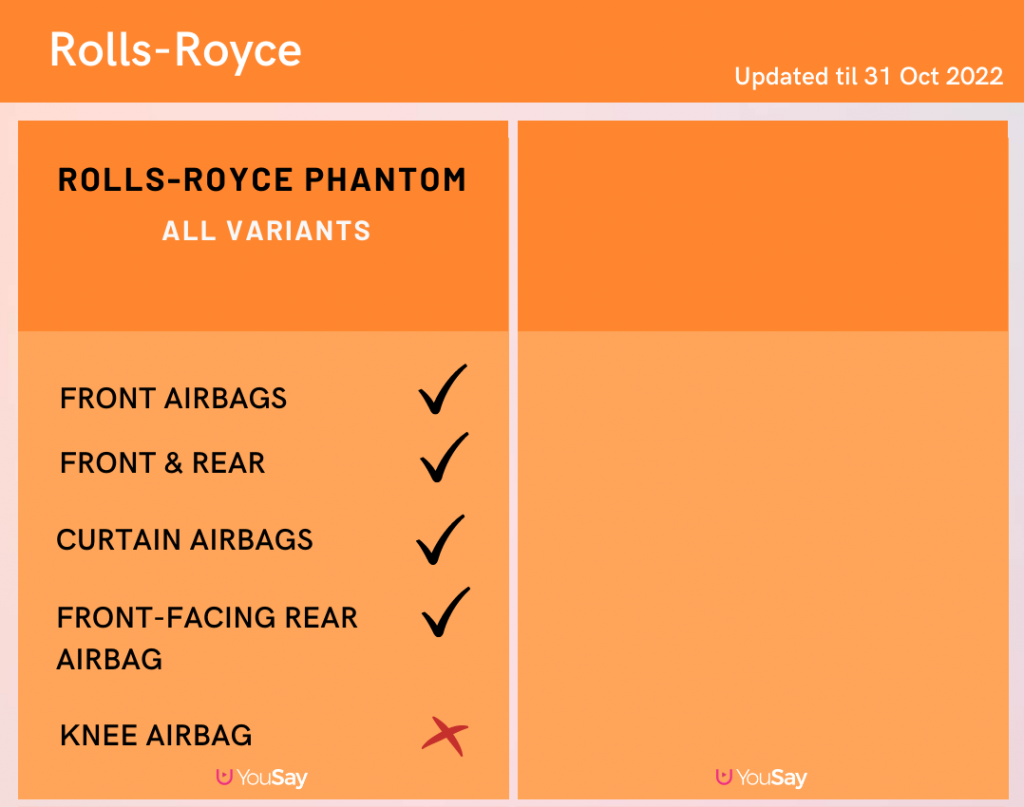 Porsche
Porsche is a German luxury racing car manufacturer renowned for its powerful vehicles. Owner of Porsche is the Volkswagen Group.