Introduction:
Two legends of Indian cricket seem to be at odds with each other, refusing to engage in conversation or even exchange a courteous handshake. We're talking about Sourav Ganguly and Virat Kohli, who have appeared to be at loggerheads for some time now. The ongoing IPL has made their rift all the more apparent. But what caused the animosity between them, and why are they acting this way? Let's find out.
The Incident That Exposed It All
Currently, discussions in cricket circles are centered around the relationship between Ganguly and Kohli. Their strained relationship came to light during the recent match between Delhi Capitals and Royal Challengers Bangalore. After the match, as the players exchanged handshakes, Ganguly and Kohli conspicuously avoided each other. This caught the media's attention and sparked numerous speculations about their disagreements.
Kohli's Cold Stare:
In the same match, Kohli's reaction when Ganguly walked past him during his batting preparations became a talking point on social media. Wearing his pads and sitting down, Kohli gave Ganguly a cold stare as the latter walked by. Even though Kohli interacted with other players who arrived later, he seemed to maintain a distance from Ganguly. This further fueled speculation that there's a significant rift between the two.
In the Ground Too.
Virat Kohli, known for his aggressive demeanor on the field, was seen staring at Sourav Ganguly during the match against Delhi. Even while fielding near the boundary, Kohli appeared to be angry at Ganguly. A picture related to the incident has also gone viral.
Unfollowing each other
On social media, they have started unfollowing each other. After the Delhi match, Kohli unfollowed Ganguly on Instagram, and later, Ganguly unfollowed Kohli back.
What actually happened?
The dispute began when Ganguly was president of the BCCI. At that time, strong rumors circulated that Ganguly played a role in Kohli being sacked as captain. There were reasons to believe this. After Rohit Sharma was appointed the captain of the ODI team, Ganguly said that there should be only one captain for white-ball cricket and simultaneously, he requested Kohli to continue as the T20 captain. Caught in the dramatic aftermath, the run machine (Kohli) stepped down as T20 captain, and a month later, as Test captain as well. This was somewhat confirmed in the leaks from former BCCI Selector Chetan Sharma as well.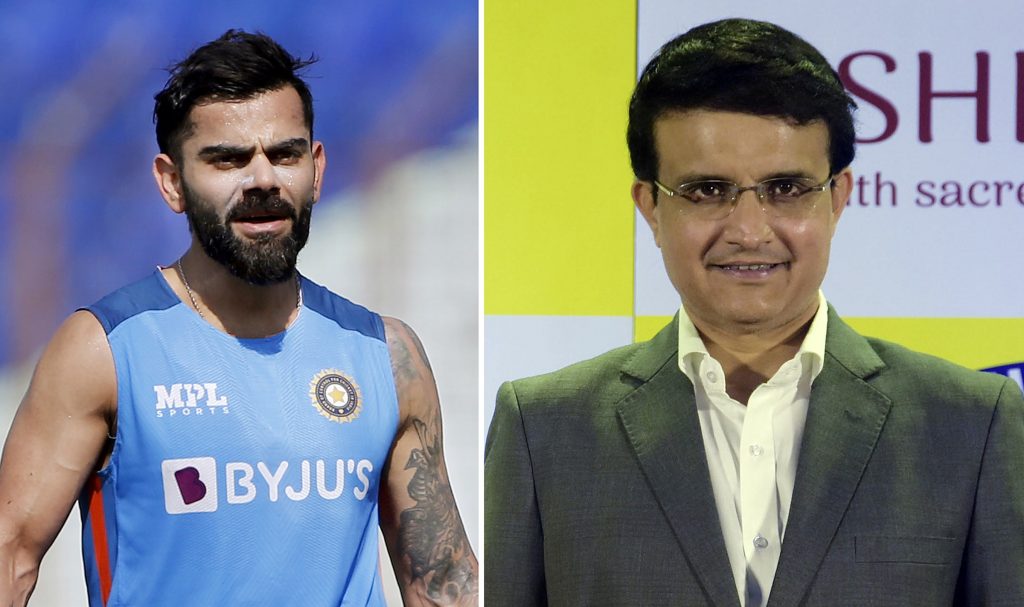 Fans are upset!
Ganguly and Virat have both worked hard for Team India. Fans are distressed to see such legendary figures in the conflict.