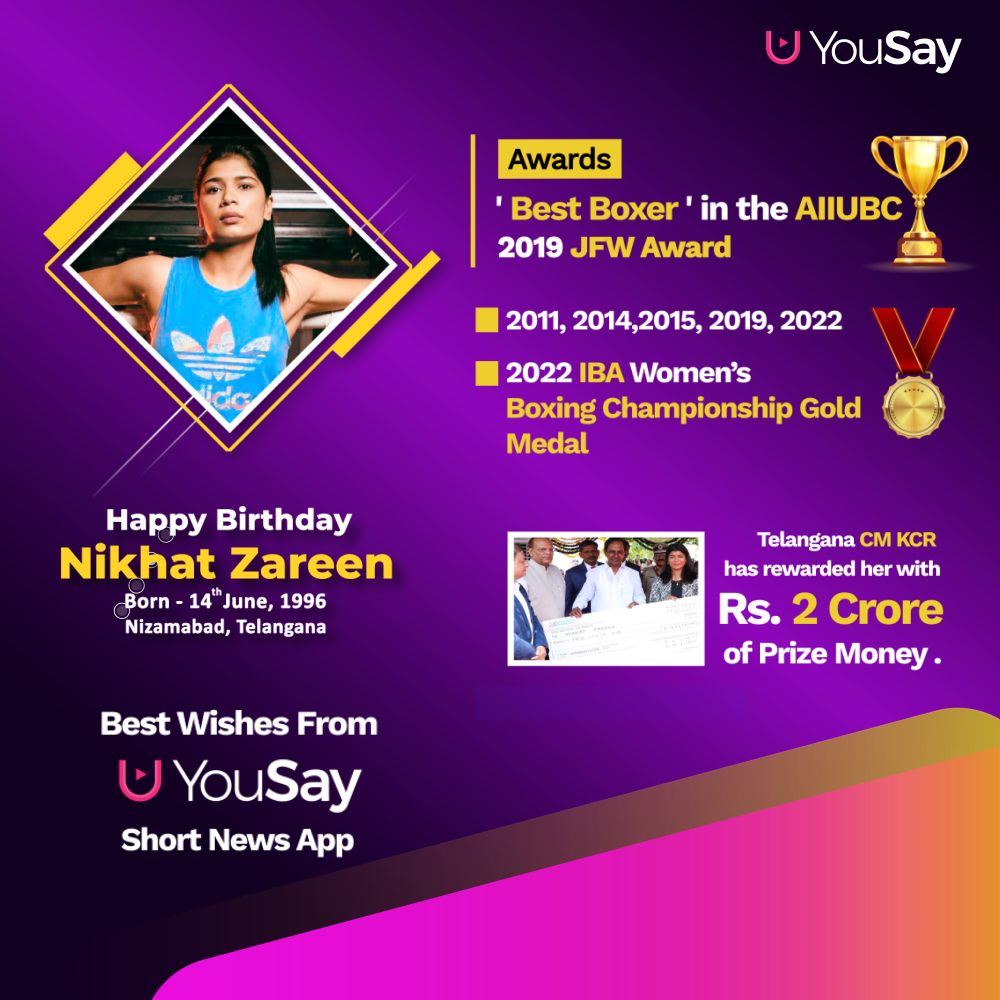 Our Telugu girl, 'Nikhat Zareen,' has made every Indian proud by winning the prestigious boxing championship. This Champion's birthday is today. On this special day, YouSay wishes Nikhat a very happy birthday.
Nikhat Zareen was born in Nizamabad, Telangana, in 1996. Since she was a child, she has had a strong desire to participate in sports. Her friends and neighbours mocked her for choosing boxing as a career. Despite the mockery, her father encouraged her to pursue her dream, advising her to respond to her detractors by becoming a champion. She is now the champion in front of the same audience that mocked her.
Early Days of her Boxing Career
Nikhat used to practise at the Nizamabad Collector's office grounds every morning when she was younger. "Enroll Nikhat in boxing and I swear I'll make her a national athlete within a year," Nikhat's father's friend said one day after closely watching her game. So her boxing career began in 2009. On his way to becoming an international player, Nikhat Zareen won all of the district and state competitions. She won a gold medal in the 52 kg division at the 73rd Stanza Memorial Boxing Tournament in Bulgaria in February of this year. She won her second Stronga Tournament medal at the junior level. In 2019 and 2011, she also won gold medals in other events.
When Nikhat Zareen became world champion
Nikhat won gold at the World Boxing Championships in Istanbul to become world champion. She made history when she became the first Telugu woman to win a gold medal in the flyweight 52 kg category. Nikhat became boxing's fifth gold medalist at the World Championships. Previously, only Mary Kom, Sarita Devi, Jenny, and Lekha Casey had won gold medals.
Nikhat Zareen's Feud with Mary Kom
Nikhat and Mary Kom had a falling out before the 2020 Tokyo Olympics. Nikhat questioned how Mary Kom was able to compete in the Olympics without going through trials. Following Nikhat Zareen's appeal to Union Sports Minister Kiren Rijiju, the Boxing Federation of India (BFI) conducted a trial. After winning the trial, Mary Kom qualified for the Olympics. Mary Kom, on the other hand, refused to shake Nikhit's hand following her victory. "Prove it in the ring, not outside," Mary Kom added. However, after Mary Kom won the world title, Nikhat congratulated her on Twitter with a photo of the two of them.
Next Goal: Olympic Medal
Her place in the Commonwealth Games is also assured, as she won the 50kg weight class. Nikhat's goal for the Olympics is to win gold for India. Let us all congratulate this magnificent boxer on his birthday.