Cast: Chaitanya Mandadi, Rag Mayur, Brahmanandam, Tharun Bhascker, Jeevan Kumar, Vishnu, Ravindra Vijay, Raghuram
Director: Tharun Bhascker
Music: Vivek Sagar
Cinematography: AJ Aron
Producers: K.Vivek, Saikrishna, Srinivas Kaushik, Sripad, Upendra Varma
Submitted by: Rana Daggubati
Release Date: November 3, 2023
Tharun Bhascker, a young director, has carved a niche for himself with youthful entertainers like "Peli Choopulu" and "Ee Nagaraniki Emaindi." Known for his clean comedy and poignant storytelling, Bhascker has endeared himself to a youthful audience. His latest directorial venture is "Keedaa Cola,". Does it deliver the laughs? Does Bhascker score another hit? Let's delve into the review.
The Storyline
Vastu (Chaitanya Rao) and Varadaraju (Brahmanandam) are the quintessential grandson-grandfather duo, embroiled in a harebrained scheme to swindle the makers of Keedaa Cola. Their plan? To plant a cockroach in a soda bottle and extort a whopping ₹5 crores. On a parallel track, Jeevan nurses political aspirations, aiming for a seat as a corporator. His brother Naidu (Tharun Bhascker), an ex-convict, throws in his lot with him. With both factions in a frenzied chase for money, their paths are set on a collision course. What ensues is a tale of wit, will, and wile, viewable exclusively in theatres.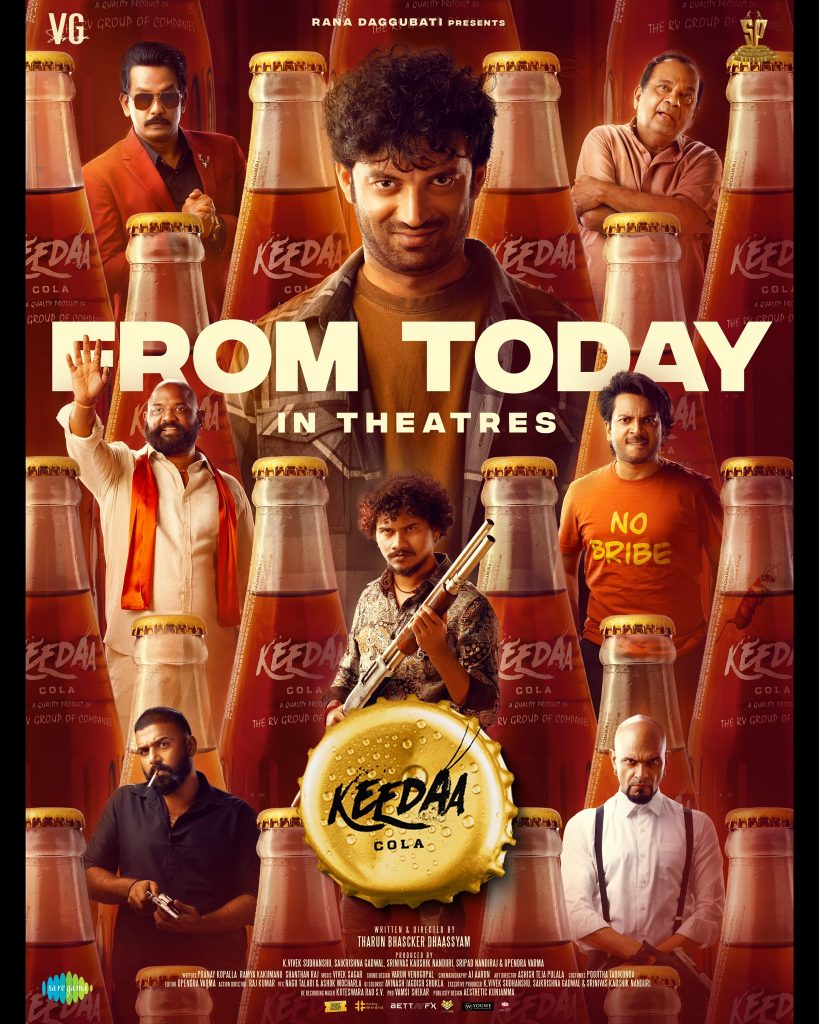 Execution
The film hits the ground running with a flurry of amusing scenes, swiftly setting the stage for fun. Tharun Bhascker's entrance as the quirky Naidu adds a new layer of excitement, his unique blend of meditation and daily English lessons lending a quirky twist to the narrative. The movie gains further traction with his eccentric stunts. As the plot thickens in the second half, the tempo cranks up. Getup Seenu, as KeedaaCola's unwitting brand ambassador, inadvertently provides a barrel of laughs, and the chaos that ensues between the Vastu Gang and Naidu Gang, with their standoffish 'surrender' antics, adds to the hilarity. Notable scenes include sharpshooters on a mission to eliminate Naidu and Naidu's comical romance with Barbie, which serve as comedic highlights. Brahmanandam's portrayal, though wheelchair-bound, sporadically steals the show with his timing, ensuring laughter is never far behind.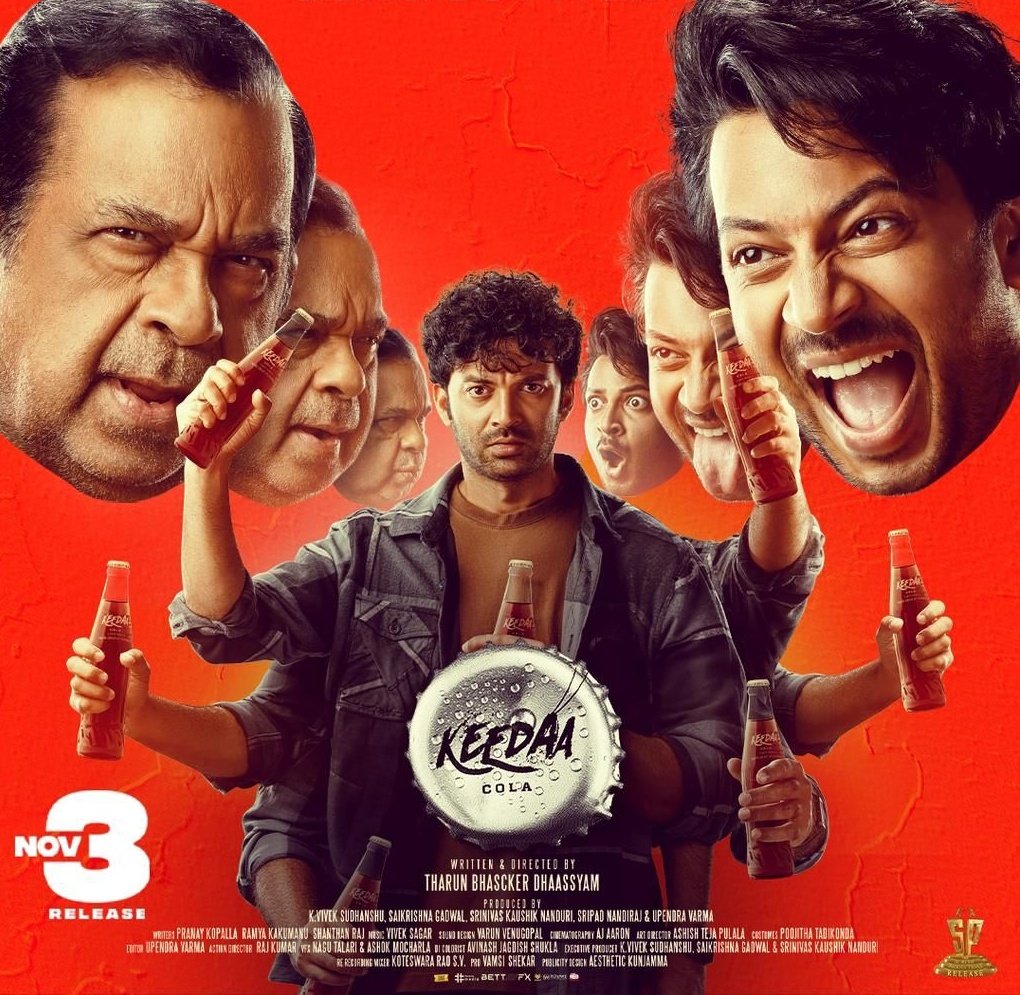 Performances
In the director's chair and in front of the camera, Tharun Bhascker delivers a standout performance. His portrayal of Naidu is a testament to his acting chops, with impeccable comedic timing that serves as a pillar of the film's charm. While Brahmanandam's screen time may be brief, his influence resonates throughout the film's entirety. Chaitanya Rao tackles the challenging role of a differently-abled youth with finesse, conveying a breadth of emotion without uttering a single word. The ensemble cast, featuring Rag Mayur, Jeevan, Vishnu, Raghu, Ravindra Vijay, and Getup Seenu, all contribute to the film's humor, proving that even minor roles can leave a lasting impression.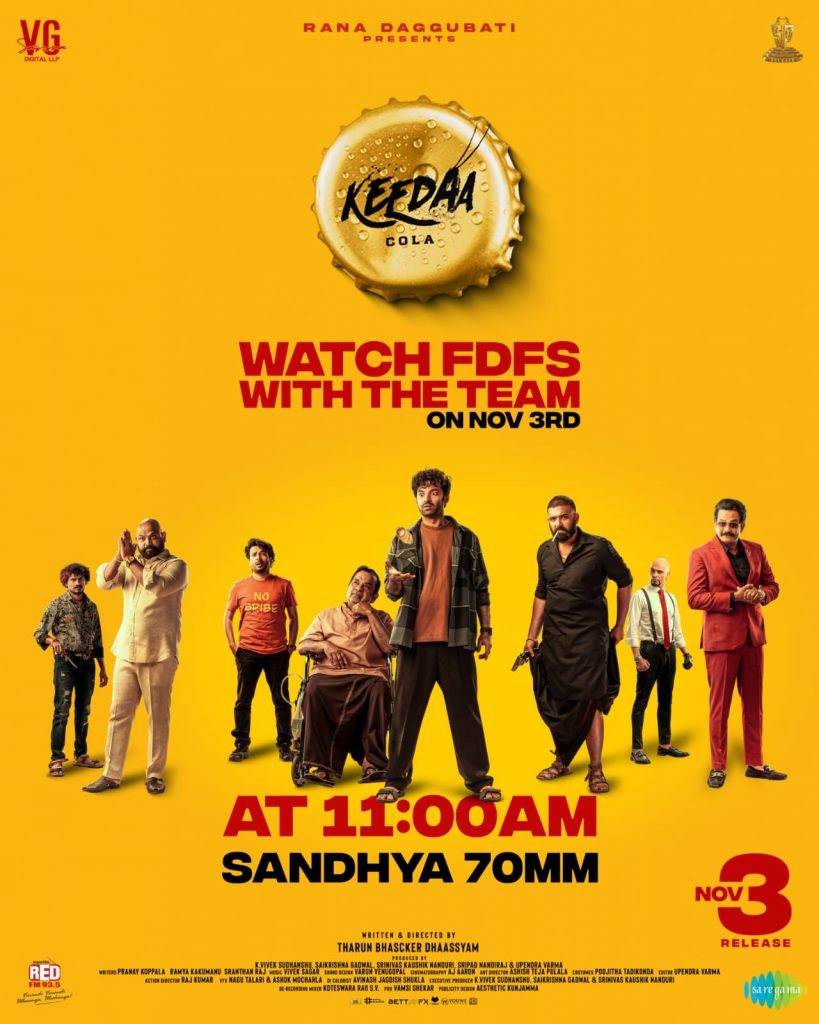 Direction
"Keedaa Cola" marks Tharun Bhascker's foray into the genre of crime comedy, a departure from his previous cinematic ventures. The Bhaskar signature is evident in the storytelling's rhythm and the script's witty construction. This time, he orchestrates a symphony of humor, utilizing visual cues, a dynamic soundtrack, and the expressive performances of his cast to evoke laughter. While Bhaskar's earlier works were steeped in realism, "Keedaa Cola" revels in the absurd, prioritizing humor over narrative plausibility. In doing so, Bhaskar successfully conjures a comedic experience that resonates with audiences, despite a story that takes delightful liberties with the expected and the imaginable.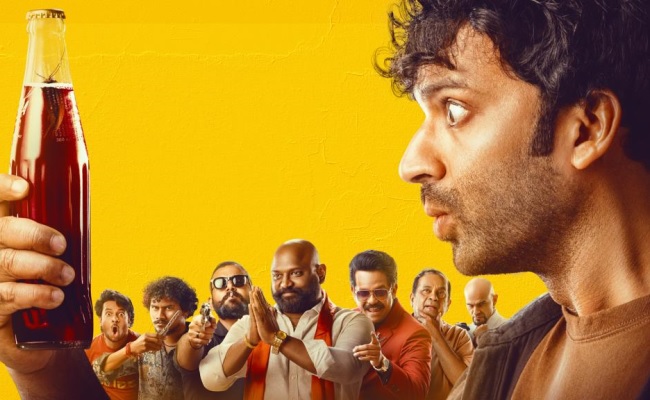 Technical Aspects
Vivek Sagar's score is a highlight, complementing the film's technical proficiency. The production values are commendable, with Bhascker's sharp writing often shining through.
Pros
Cons
Fantastical elements
Predictable plot
Rating: 3.5/5