Starring: Samudrakhani, Dhruvan Varma, Meera Jasmine, Anasuya Bharadwaj, Rahul Ramakrishna, Dhan Raj, and more.
Director: Sivaprasad Yanala
Cinematography: Vivek Kalepu
Music: Charan Arjun
Production: Zee Studios, Kiran Korrapati
Renowned actor and director Samudrakhani takes on a special role in the film "Vimanam." The movie has already garnered attention through its captivating promotional images and posters. Now, let's dive into the review and see if "Vimanam" soars high or falls flat.
Plot Summary
The story revolves around Raju (Master Dhruv), a young boy with a deep passion for airplanes. Despite coming from a poor background and having a disabled father, Veeraya (Samudrakhani), Raju dreams of flying one day. Veeraya, determined to provide his son with a fulfilling life, sets out on a challenging journey. However, unexpected obstacles test their resilience. Will Veeraya's unwavering determination overcome all odds? Watch "Vimanam" to witness their remarkable journey unfold.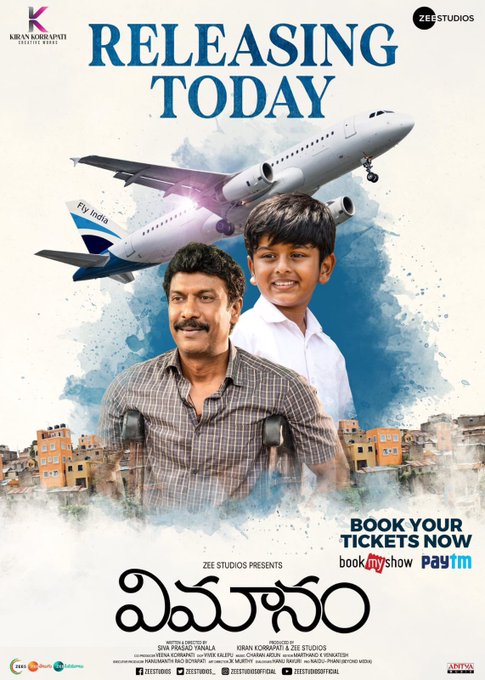 Performances
The success of movies like "Vimanam" lies in the narration, dialogues, and performances. This film delivers on all fronts, capturing the raw essence of a slum-dwelling family and their struggles. The emotional bond between father and son is beautifully portrayed, leaving a lasting impact on the audience. Moments in the interval, second half, and climax are truly heartwarming.
Samudrakhani shines in his portrayal of a disabled father, skillfully conveying the weight of his responsibilities and the pain of an uncertain future. Master Dhruvan impresses with his innocence, honesty, and heartfelt portrayal of a young child's dreams. Anasuya's performance as Sumathi, a prostitute, adds depth to the narrative, while Rahul Ramakrishna's character as a lovelorn millionaire brings an emotional touch to the story. Meera Jasmine delivers a noteworthy performance as an air hostess, and Dhanraj adds his charm as an auto driver.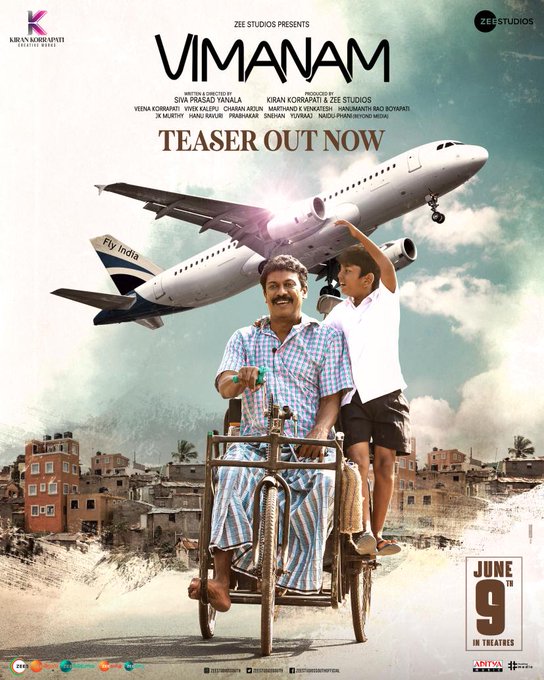 Technically
Director Sivaprasad Yanala skillfully brings this familiar tale to life, highlighting the struggles of a poor family and capturing the emotional bond between father and son. He adeptly portrays the difficulties faced by the hero in the second half, while Hanu Raoori's impactful dialogues strike a chord. Charan Arjun's music leaves a lasting impression, and Vivek's cinematography shines throughout the film.
Pros
Impressive performances by the cast
Emotional and impactful scenes
Engaging climax
Cons
Some elements of the story feel imaginative
Verdict
"Vimanam" takes audiences on an emotional journey filled with dreams, sacrifices, and heartfelt moments. Prepare for an emotional airport experience.
Rating: 3.25/5