In response to the criticism the "Adipurush" teaser has generated, Rebel Star Prabhas and his "Adipurush" crew have begun damage control measures. On October 2, the producers released the most anticipated teaser, which has since drawn criticism from viewers and fans for its subpar visual effects and the cast's highly contentious appearances.
The peek has always been interpreted by viewers as more of an animated rendition than a live action movie.The previous several days have seen discussion of this teaser in both local and national media. In spite of the harsh criticism and outrage, the teaser has received more than 100 million views on YouTube in all languages.
The pan-Indian superstar participated in the Delhi Ramlila celebration on Dasara and launched some corrective measures to lessen the outrage over the "Adipurush" teaser. In all of the major towns, Prabhas and his crew have begun showing 3D versions of the "Adipurush" teaser. The press and media people have already viewed the 3D teaser and provided favourable reviews. A 3D teaser screening event was held in AMB Mall, Hyderabad as part of this, Prabhas, director OM Raut, and producer Bushan Kumar all attended. To watch their idol, a sizable crowd of admirers has gathered outside the mall. Along with the audience, Prabhas and his crew viewed the 3D teaser. After viewing the 3D version, fans had a great response. Many people have started changing their prior evaluations after viewing the glimpse in 3D.
When addressing the media, Prabhas stated: "A new technology was used to create "Adipurush. The audience might need some time to get used to it. The movie is intended to be seen in 3D on a large screen. After seeing the movie on a wide screen, maybe the audience will have a chance to appreciate the effort we put into it. We will surprise you in the next few days with a bang of content."
Here is a list of 3D theaters in Andhra Pradesh and Telangana where you can see the "Adipurush" teaser in 3D from today.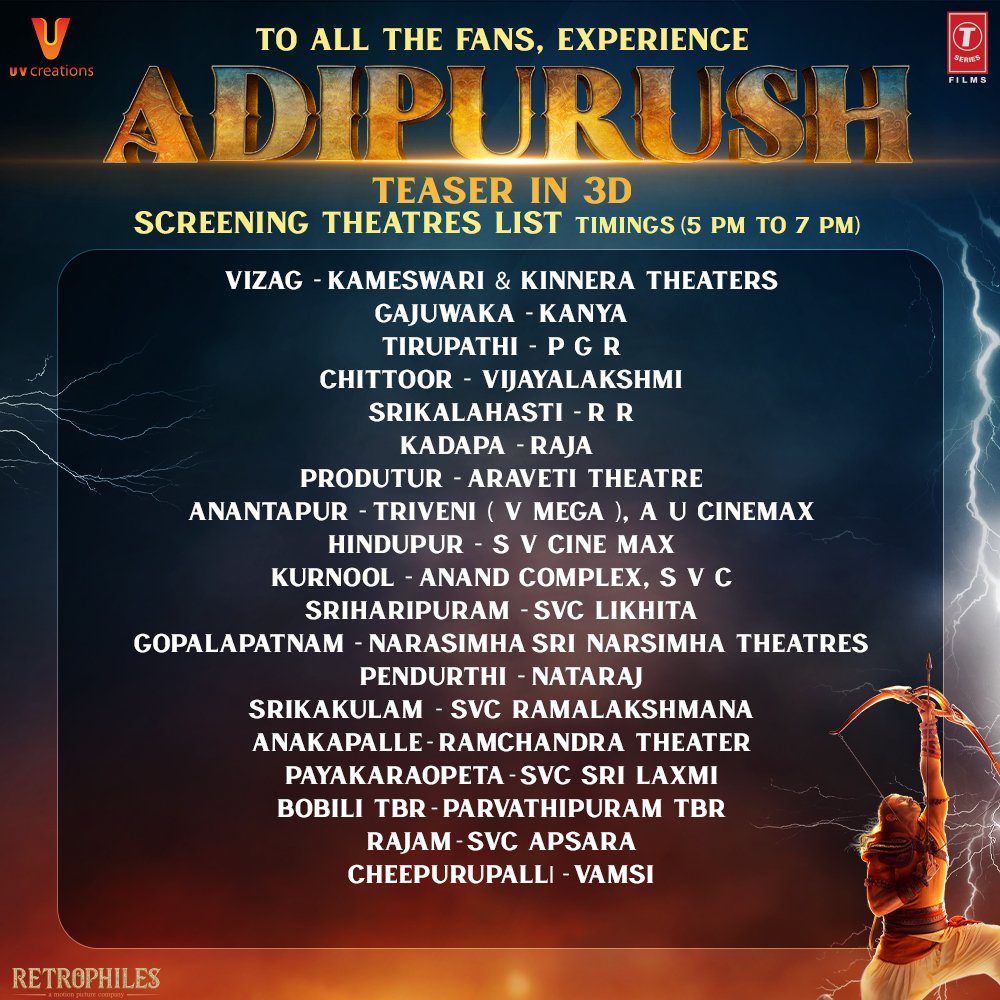 The timeless Indian epic Ramayana is being adapted in the film "Adipurush." This movie's production costs are estimated to be 500 cr. Om Raut is the film's director. Bushan Kumar is the producer. In this movie, Sunny Singh, Kriti Sanon, and Saif Ali Khan play the key roles. The release date for this movie is January 12.