Chiranjeevi entered the movie business as an outsider. In the beginning of his career, he was able to secure minor roles with a great deal of effort. The movie "Punadi Rallu" marked his debut as a popular hero. After "Punadi Rallu," Chiranjeevi never looked back. His journey to the top and subsequent emergence as Telugu cinema's megastar happened progressively. Chiru can now be referred to as Tollywood's "Godfather."
On the special occasion of Chiru's birthday, let's look back into Chiranjeevi's legendary filmography and sort out the films that made Chiranjeevi pioneer his status as a megastar.
Khaidi (1983)
Chiranjeevi's Khaidi was released in 1983 and was directed by Kodanda Ramireddy. This movie brought immense stardom to Chiranjeevi. Back in the day, he drew the attention of the industry with this movie. Chiranjeevi nailed the performance as an angry young man, Suryam. Madhavi played the female lead in this flick. Khaidi was a big money spinner at the box office. The film was remade in Hindi and Kannada.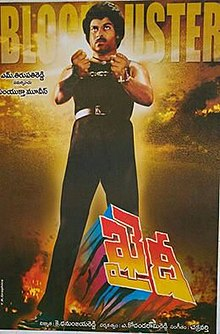 Jagadeka Veerudu Athiloka Sundari (1990)
 The audience is driven on a magical journey by K. Raghavendra Rao's fantasy film 'Jagadeka Veerudu Athiloka Sundari'. Chiranjeevi's portrayal of the king and Sridevi's depiction of the goddess, along with the narrative and melodies, were spellbinding. Key roles were played by Amrishpuri, Ramireddy, and others. The movie, which was released on May 9, 1990, earned approximately Rs. 15 crores at the box office. It became the first Telugu movie to earn large sums of money. It gained notoriety as a cult classic. The film won five Nandi awards.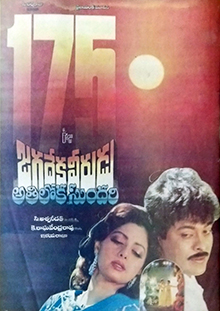 Gangleader (1991)
 Chiranjeevi, Murali Mohan, and Sarath Kumar played three brothers in the movie Gangleader, directed by  Vijaya Bapineedu. Back in the day , the Megastar's moves to Bappilahari's music created a sensation. The movie was well-received by critics and profitable at the box office. It might be stated that Chiranjeevi became a household name because to this film. Gangleader was subsequently remade in Tamil, Hindi, and Kannada. Chiranjeevi also acted as a hero in Hindi.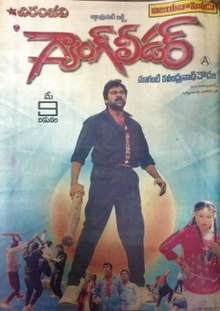 Gharana Mogudu (1992)
Romantic family drama 'Gharana Mogudu' is a trendsetting movie in Tollywood. It made history as the first movie with a 10 crore distributor profit share. With this film, Chiranjeevi surpassed Amitabh as India's highest-paid hero. The protagonists were Vani Vishwanath and Nagma. The film is directed by K. Raghavendra Rao. 'Gharana Mogudu' was aired the 1993 International Film Festival of India.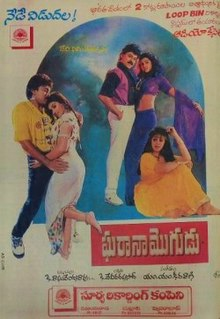 Indra (2002)
Chiranjeevi's first movie as a factional hero was "Indra." The breathtaking interplay between present and flashback still amazes the audience. The flick was directed by B. Gopal. Aarti Aggarwal and Sonali Bendre appeared as heroines. Ashwini Dutt produced this film with a budget of 10 crore. The film has grossed 40 crores at the box office."Indra" is one of the biggest blockbusters in Telugu cinema. Later, the film was dubbed into Tamil, Hindi, and Bhojpuri. Also, "Indra" was remade in Bengali and Bangladesh.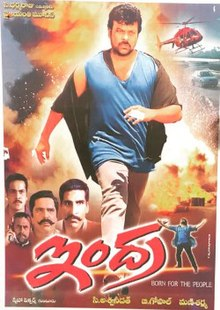 Chiranjeevi's heroics extended beyond the screen thanks to his humanitarian work. By founding a blood bank and an eye bank, he is saving lives. Numerous individuals have become his fans due to his exceptional work outside the cinema. Megastar Chiranjeevi continues to hold the top spot in the industry even to this day. He officially announced that he would construct a hospital for the underprivileged members of the film industry, to be called Konidela Venkatarao Hospital. By 2023, he predicted, it would be finished.
On Chiranjeevi's birthday, special screenings of his blockbuster films like Gharana Mogudu, Indra, and Shankardada MBBS were shown throughout AP/TG.