The national heartthrob Vijay Devarakonda is leaving no stone unturned to promote his upcoming release, "Liger". The Tollywood star actor is striving tirelessly to raise exposure of "Liger" throughout India. While "Liger" is being released in Hindi, Tamil, Telugu, Malayalam, and Kannada around the country, Vijay Devarakonda and his team are working hard to get their movie into the country's outlying regions.
The movie industry relies greatly on marketing and advertising. Particularly today's actors and actresses must work really hard on both ends to bring the movie to the public. On the day the "Liger" trailer was released in Mumbai, Vijay and Ananya Pandey began the "Liger" promotional campaign. Vijay Devarakonda then used Patna and Ahmedabad to promote his film. The "Arjun Reddy" actor is actively engaging with fans by planning huge events, in contrast to other celebrities who only take part in press conferences and radio interviews. All of the promotional events for Vijay's film are witnessing sold-out crowds, which is fantastic news for the actor and his project.
Since the release date of "Liger" is inching closer, the movie team has scheduled a nationwide promotional tour that will begin on August 11 in Patna and end on August 23 in Varanasi. The "Liger" crew visits Chandigarh, Chennai, Warangal, Hyderabad, Indore, Kochi, Bengaluru, Guntur, and Delhi on this promotional tour.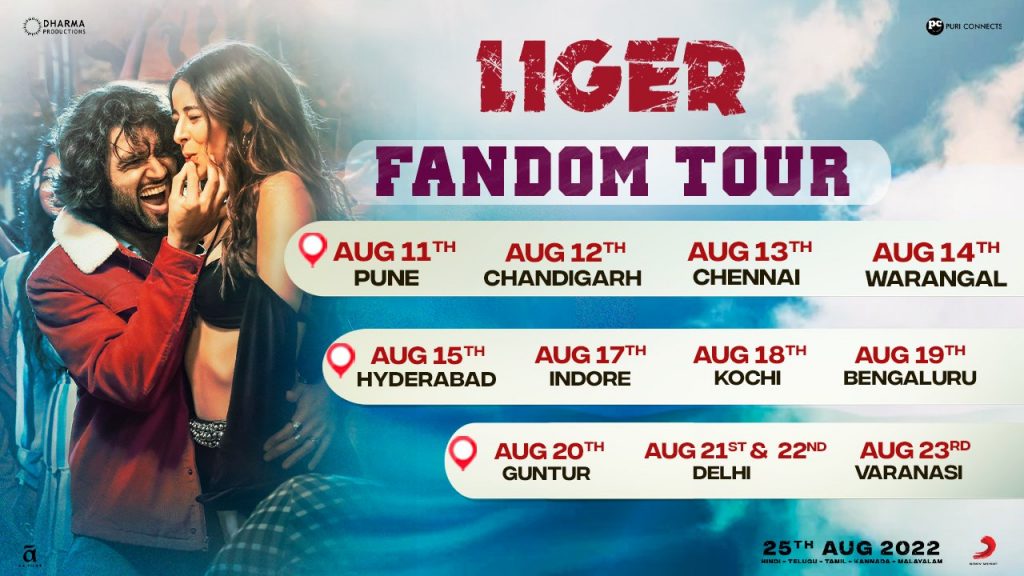 On August 25, "Liger" is scheduled to premiere in theaters. The movie is currently generating a lot of discussion among viewers around the nation. A staggering 100+ crores was paid for the national theater rights to the film "Liger." No one will be able to stop the movie from shattering numerous box office records if it opens to favorable reviews and word-of-mouth.
"Liger" is a sports action film written and directed by Puri Jagannadh, and it is shot simultaneously in Telugu and Hindi languages. Vijay will play an MMA boxer and fighter in the film. Ananya Panday plays the female lead, while Ronit Roy, Ramya Krishna, and Mike Tyson will play other important roles in the film. Interestingly, Mike Tyson is making his acting debut in Indian cinema with this movie.