SS.Rajamouli's creative wonder 'RRR' is creating wonders among the international audience, leaving no clue of stopping anytime soon. This Telugu epic-action drama film has now become a fan favourite among film lovers around the world.
RRR defied all expectations and remained the number one non-English film on Netflix for three weeks in a row. 'RRR' madness is not just limited to India and America but is worldwide. The film is now ranked among the top ten movies on Netflix in 17 countries. In Bangladesh, RRR is the number one movie on Netflix.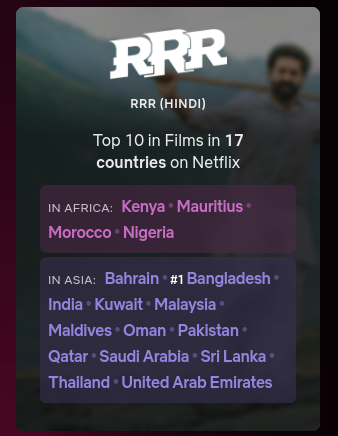 The 'RRR' Hindi version was released on Netflix and that's where the foundation stone for breaking the barriers was made. Upon its release on Netflix, the movie topped the most watched non-English movie charts on Netflix. The film somehow caught the attention of a limited number of western audiences at the start, but the film picked up really well after that thanks to extremely positive word of mouth. 'RRR' soon has broken down language barriers and it is causing havoc in the foreign lands. 'RRR' worked its magic in the United States, the United Kingdom, Africa, the Gulf countries, and nearly all South Asian countries.
International audience are loving the film 'RRR'
Speaking honestly, the foreign audience loved the film so much that they started owning the 'RRR' stars. They even started to explore Ram Charan and NTR's filmography. People are pouring their enthusiasm for this film on their social media platforms, which has gone viral all over the world.
Major American media outlets, The Atlantic and The Insider, have published articles on the 'RRR' movies. "Crush Alert," a popular Insider news correspondent, tweeted about actor Ram Charan and RRR movie
Kira Snyder, the famous writer-producer of Hollywood flicks (DEMIMONDE, THE HANDMAID'S TALE, PACIFIC RIM 2, THE 100, ALPHAS, EUREKA) has gone out of words to praise this Indian epic. On her Twitter post she spoke about some enthralling scenes where Rajamouli and his team came up with top-notch VFX and CGI.
"A dude THROWS A LEOPARD at a bad guy and another dude PUNCHES A TIGER and those aren't the most amazing moments in the movie—they're not even the most amazing moments IN THE SCENE. Words don't do justice to this movie. Grab a couple of friends and watch 'RRR.'
This film even won the appreciation of renowned DC and Marvel writer Jakson Lanzing ( CAPTAIN AMERICA, BATMAN BEYOND). In a nutshell, RRR has raised Indian cinema to Hollywood level without a doubt.
Analysts predict that "RRR" will be nominated for an Oscar in the category of "Best International Film." With international acclaim, SS Rajamouli's film made us proud. It would be fantastic if RRR won the Oscar for best international film.