Gopichand, the six-foot-tall handsome hunk who accidentally popped out into films. Although he faltered in the first movie, he later established himself as a villain and a successful hero in the Telugu film industry. This dynamic actor is known for his down to earth personality who never gets involved in any controversy. Find out more about this action star who is captivating all of us with Mass Look.
Who is Gopichand?
Actor, Producer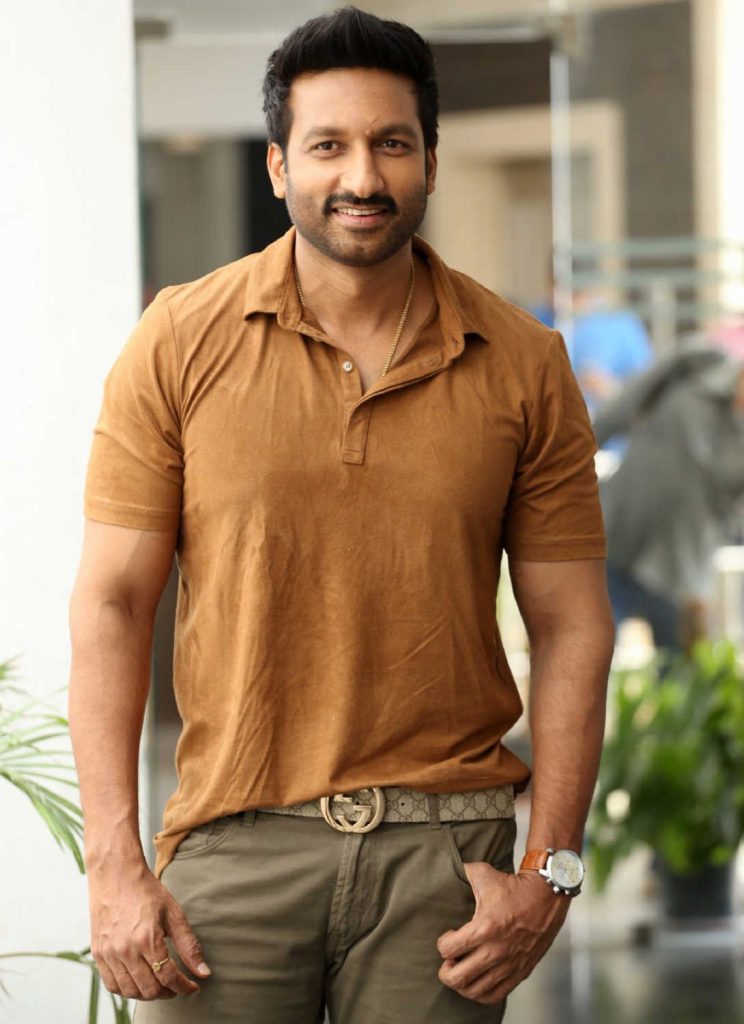 When is Gopichand's birthday ?
Gopichand was born to Thottempudi Krishna-Koteshwaramma on June 12, 1979 in Prakasam district of AP. His father Krishna was one of the best directors in the industry in his time. He has directed films like 'Neti Bharatam, Monagadu, Dongalupaddaru, Devalayam, Vande Mataram' etc. Premchand, the elder brother of Gopichand, worked as an associate director with Muthyala Subbayya. Premchand died in a car accident.
Gopichand's age and height?
Gopichand is 42 years old. Height 6'1 (1.86 m) feet. Gopichand is one of the few six-foot-tall heroes in the Tollywood industry.
How many movies did Gopichand act in?
He has acted as a hero in almost 25 movies. His roles as Villain are well acclaimed by the audience. He is best known for his films Ranam, Golimar, Sahasam, Jill and Seetimaar.
https://m.imdb.com/title/tt1666308/mediaviewer/rm439378432/
Entry into the Films
Gopichand completed his engineering in Russia, then he had no interest in pursuing a career as an actor. After his brother Premchand's death, he was introduced as a hero in the movie 'Tholi Valapu' in 2001. His debut flick was not a success so he opted to do antagonist roles in a slew of films, Jayam, Nijam and Varsham. He was casted as Hero again from the film Yagnam.
Who is Gopichand's wife? When did their wedding take place ?
On May 12, 2013, he married Reshma, the niece of famous actor Srikanth. On seeing Reshma's photo, Gopichand requested that Chalapathi Rao mediate their marriage. Srikanth's family agreed to perform Gopichand and Reshma's wedding when Chalapathi Rao approached them about it.
What are Gopichand's NickNames?
Gopichand is affectionately known by fans as the Action Star and the Macho Star. He mostly makes movies with mass looks.
https://www.imdb.com/name/nm1385228/mediaviewer/rm147030529/
Gopichand's favorite movie?
Gopichand is a fan of the Avatar movie franchise. Akkineni Nageswara Rao, Senior NTR, Savitri are Gopichand's favourite actors.
Favorite food, book and Hobbies?
Gopichandran loves chicken dishes. Not much is said about the books he likes. This actor likes to travel with his friends in his free times.
https://www.imdb.com/name/nm1385228/mediaviewer/rm1019445761/
Film Awards for Gopichand.
His power-packed performances earned him a Nandi award, Filmfare south Award.